Jericho Cruz dropped 21 points and came up big in the clutch as Guam fended off Hong Kong, 67-64 on Friday at the Sree Kanteerava Indoor Stadium in Bengaluru, India for a perfect first round record in the FIBA Asia Cup 2025 pre-qualifiers.
The San Miguel Beermen guard topped his side shooting 8-of-15 from the field, and also tallied nine rebounds, five assists, three steals, and a block in an all-around effort.
He made two crucial free throws on separate trips to the foul line under the final 30 seconds, giving Guam much needed separation over its opponent for a perfect 2-0 record in Group C.
Guam took control of the game with a 20-11 second quarter and kept Hong Kong at bay for most of the second half, leading by as much as 16 points before the latter stormed back in the final period.
A triple by Cruz gave the island territory its biggest margin at 62-46 with 7:21 to play, before the East Asian side went on a 16-2 run in the next six minutes to pull within two points.
Fortunately, the former Adamson Soaring Falcon made a split with 28 seconds to go, before gabbing a rebound with seven ticks left which led to another free throw conversion.
Earnest Lee Ross Jr. contributed a double-double of 13 points and 10 rebounds, while Jonathan Galloway added 13 points and nine boards.
Choi Kwan Tsai led Hong Kong with a game-high 24 points, shooting 4-of-8 from long distance. Ricky Yang chipped in 16 markers.
Guam, Singapore, and Hong Kong will all advance to the second round in February 2023, with Guam already having a 2-0 record to carry over.
In the second round, the Group C teams will face the top three countries to make it out of Group D, which includes Vietnam, Thailand, Mongolia, Malaysia, and Tahiti.
Only the top four out of six squads from that round will join 20 other countries in the qualifiers for the 2025 continental championship, with only 16 slots for the proper.
FIBA.basketball photo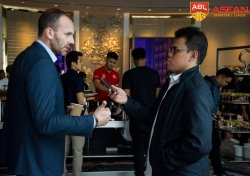 Latest posts by Levi Joshua Jr Verora
(see all)