Will third time finally be the charm for Cebu Chooks?
The Philippines' top 3×3 basketball team will head to the Kingdom of Saudi Arabia to compete in the FIBA 3×3 World Tour 2022 Riyadh Masters taking place from November 11 to 12 at the Formula E Track.
Philippine No. 1 and 2 Mac Tallo and Brandon Ramirez will banner the squad, along with resident Cameroonian import Mike Harry Nzeusseu and new signing Marcus Hammonds.
The American Hammonds used to play for Isabela Chooks back in 2019. He previously teamed up with Roosevelt Adams and Gab Banal back in the Holdings Group Haining Challenger 2019.
Hammonds is a staple in the Southeast Asian basketball scene, having played for Indonesian clubs including CLS Knights. He is no stranger to 3×3 ball either, having seen action for Platinum Karaoke and Pretty Huge.
"Good thing Marcus has been here in the country and has been training with us," Chooks-to-Go 3×3 head trainer Chico Lanete said.
"Marcus is also very familiar with the local 3×3 scene, competing with numerous teams here."
Currently the 26th ranked team in the world, Cebu Chooks will need to be at their best and more in Riyadh where the list of teams joining features a who's who in the world of 3×3 basketball.
Cebu Chooks is bracketed in Pool A. They will face world No. 1 Ub of Serbia and Doha of Qatar.
Ub has won four Masters tournaments so far, including the FIBA 3×3 World Tour 2022 Manila Masters, even if they placed only seventh in Paris last month.
Meanwhile, Doha has competed in the Cebu and Paris Masters.
Cebu is hoping to best its quarterfinal finish from the Manila Masters and avenge its disappointing Cebu Masters setback last October where the squad was eliminated in the pool stages.
Chooks-to-Go president Ronald Mascariñas bared that the program's 3×3 teams are in the midst of a rebuild, tempering expectations as they gear up for the 2023 calendar.
"We are just hoping for a good showing for Mac and Brandon in Riyadh," Mascariñas said.
Along with Hammonds' signing, Chooks has announced that Zachy Huang has been released while Vince Tolentino is recovering from an injury.
Contributed photo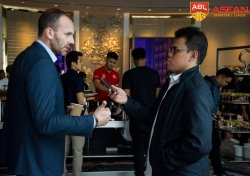 Latest posts by Levi Joshua Jr Verora
(see all)