Manila Chooks will begin its post-Chico Lanete era on Friday on the sunny beaches of Neom, Saudi Arabia.
The country's second-ranked 3×3 team will compete in the 2022 NEOM Super Quest — a qualifier for the 2022 FIBA 3×3 Hong Kong Masters and a part of the NEOM Beach Games 2022.
Composing Manila is a tall and young lineup: 6-foot-5 Dennis Santos (Philippines No. 5), 6-foot-8 Ken Holmqvist (No. 10), 6-foot-11 Nigerian import Henry Iloka, and 6-foot-7 Dave Ando.
"While we are still looking for new players for the crucial 2023 season, we still need to compete to close out the year," Chooks-to-Go president Ronald Mascariñas said.
"And this opportunity to compete in NEOM will help us gauge who will be our foundational blocks for our teams next year."
"Magandang test ito para sa Manila kung uubra ba ang big lineup namin against yung top teams in the world," Chooks-to-Go Pilipinas 3×3 head trainer Chico Lanete added.
"Very crucial yung November 2022 to November 2023 kasi hindi lang competiting ang habol natin, kailangan na rin nating manalo. For the rest of the season, we will look to mix and match mga lineups natin."
Manila Chooks is seeded ninth in the tournament that has a USD 10,000 prize for the champion and USD 5,000 for the runner-up.
The Philippine squad is slotted in Pool A along with world No. 3 Riga of Latvia and No. 19 Warsaw of Poland.
Manila Chooks will take on familiar faces as the Latvian quartet stars Nauris Miezis (world No. 4), Karlis Lasmanis (No. 14), Edgars Krumins (No. 18), and Agnis Čavars (No. 19).
The Polish side, meanwhile, is composed of Przemyslaw Zamojski (world No. 50), Szymon Rduch (Poland No. 2), Łukasz Diduszko (Poland No. 5), and Mateusz Bierwagen (Poland No. 8).
There will be no shortage of Filipino flavor at the games either, as Pinoy high flyer David Carlos is set to compete in the Slam Dunk competition.
Manila Chooks is hungry for a victory as their Cebu counterparts suffered a sweep during the 2022 FIBA 3×3 Tainan City Challenger last October 22.
The quartet of PH No. 1 Mac Tallo, No. 2 Brandon Ramirez, No. 11 Vince Tolentino, and Cameroonian import Mike Nzeusseu finished ninth among 16 teams after falling to world No. 1 Ub (22-14) and rising Japanese power Utsunomiya (21-10).
"Gutom ang mga bata manalo," Lanete bared. "Kahit kaming mga coaches talagang gusto namin makabawi to close out the season."
Contributed photo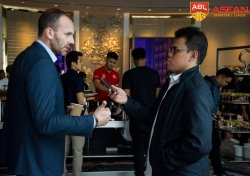 Latest posts by Levi Joshua Jr Verora
(see all)