The long wait is over for the ASEAN Basketball League.
Southeast Asia's first regional professional basketball league is set to return with an Invitational Tournament Series slated to open in January 2023, marking its first official competition after three long years.
According to the ABL official website, the invitational will run from January to early March, with a break to be observed in February for the FIBA international window.
"We're glad to announce that the ASEAN Basketball League is finally coming back for its 11th season with the ABL Invitational Tournament Series 2023. After the Covid-19 pandemic put everything to a halt, the return of the ABL is a huge step towards the right direction as we hope to give our fans the sense of normalcy while we continue to recover from the after-effects of the pandemic," said ABL Chief Operating Officer Kuhan Foo.
Foo took the reins from Saigon Heat co-founder Connor Nguyen, who was named league interim Chief Executive Officer back in early 2021, amidst the on-going COVID-19 pandemic situation.
In April, the ABL tested the waters by organizing international 3×3 and 5-on-5 tournaments which were held in Bali, Indonesia.
These served as preparations for players and teams in the Southeast Asian (SEA) Games held in Vietnam later in the calendar year.
The website has not disclosed details yet as to which teams are going to participate in the invitationals.
In January 2022, it was also reported that the Davao Occidental Tigers will represent the Philippines in the ABL.
New Indonesian club Louvre was also revealed in November 2021, with the intent of joining the ABL.
Meanwhile, the Singapore Slingers have announced the re-signing of world import Xavier Alexander, one of the league's all-time greats. He will be joined by veterans like Delvin Goh and Larry Liew. The Slingers have also tapped Kentrell Barkley as they are likely gearing up for the upcoming season.
A reliable source with knowledge of the situation likewise told Sports Bytes Philippines that up to three Filipino squads are interested in joining the ABL's latest tournament.
Two Thai clubs — MONO Vampire and Hi-Tech Bangkok — might also comprise the list of squads competing in the tourney.
Photo from ABL Basketball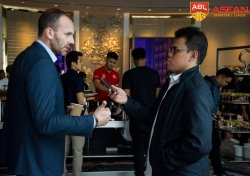 Latest posts by Levi Joshua Jr Verora
(see all)