Coming out of his short retirement, grizzled veteran Mac Baracael showed why he is still worthy of a contract in the Southeast Asian professional basketball scene.
The former Barangay Ginebra wing man dropped 24 points as the Pilipinas Aguilas took home the third place consolation in the Filbasket International Championship via an 81-72 win over Malaysian side MBC Basketball Club on Sunday, October 30 at the MABA Stadium in Kuala Lumpur.
The 37-year-old pro shot an efficient 9-of-15 from the floor and also had five rebounds. Prince Eze contributed a double-double of 12 points, 10 rebounds, and two blocks, while Biboy Enguio tallied 10 markers.
"This is for the country. Yesterday, we lost in the semifinals. We needed to bounce back and win this for the Philippines," Baracael, who has already been receiving offers from the Malaysian Professional League, said.
Coach Luis Monfort's Aguilas went on an 18-11 first quarter lead, and never looked back to take the second runner-up trophy in the 10-team tournament.
DeAngelo Hamilton had 22 points and 16 boards for MBC.
The win avenged the Aguilas' 63-72 setback to Kuala Lumpur Aseel in the semifinals yesterday, where Baracael also led the squad with 18 points.
He would be named to the Filbasket All-Tournament First Team, alongside Hamilton, Dee Wee Yiang (Aseel), Ting Chun Hong (Harimau Malaysia), and Wong Yi Hou (Harimau Malaysia).
Another Filipino cracked the All-Tournament Second Team, as the Makabayan Warriors' James Martinez joined Muhammad Rizky (Bumi Borneo), Wong Zhong Han (Adroit Sports Association), Wutipong Dasom (Pegasus Sports), and Khapri Dean Alston (Elang Pacific Caesar).
Martinez averaged all-around numbers of 17.3 points, 3.8 rebounds, 5 assists, 2 steals, and 2.3 triples made per contest, although the Warriors only won two of four outings and failed to advance past the group stage.
Contesting the gold medal of the championship are KL Aseel and the national team-laden Harimau Malaysia side coached by former Maharlika Pilipinas Basketball League star Jeff Viernes.
Photo from Filbasket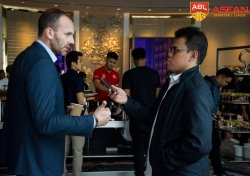 Latest posts by Levi Joshua Jr Verora
(see all)