Three Philippine teams will go for glory in the upcoming Filbasket International Championship slated to open on Sunday, October 23 at the MABA Stadium in Kuala Lumpur, Malaysia.
Representing the archipelago in the week-long competition are the clubs of Pilipinas Aguilas, Makabayan Warriors Pilipinas-Shawarma Shack and BGC Builders. All three sides shall be bannered by familiar names in both the local and Southeast Asian basketball scene.
The Aguilas will have former NCAA Most Valuable Player Prince Eze as their import, along with Allan Mangahas, Raffy Ynion, Darwish Bederi, Fil-Indonesian Biboy Enguio, and Mac Baracael, among others.
On the other hand, the Shawarma Shack-backed Makabayan Warriors Pilipinas will be bolstered by the presence of James Martinez, RJ Deles, Levi Dela Cruz, Marcy Arellano, Andrian Celada, Ken Acibar, and former PBA second overall pick Maurice Shaw.
Lastly, comprising the Builders are former Barangay Ginebra guard Teytey Teodoro, Edok Doroteo, Mark Doligon, Joshua Saret, Raymond Matias, and Marlon Monte, to name a few.
The Aguilas and Builders are bracketed in Group A along with Harimau Malaysia (Malaysia), Bumi Borneo Basketball (Indonesia), and Adroit Sports Association (Singapore).
Meanwhile, the Makabayan Warriors Pilipinas-Shawarma Shack will face Pegasus Brunei (Brunei), KL Aseel (Malaysia), Elang Pacific Caesar (Indonesia), and MBC Basketball Club (Malaysia) in Group B.
Only the top two finishers in each of the two groups will advance to the crossover semifinals.
The Filbasket International Championship recently gained FIBA status as an invitational.
League founder Jai Reyes mentioned prior to the 10-team competition that the tournament will serve as exposure for Filipinos to "get used to international play" and  "healthy competition" for Southeast Asian clubs, given that the post-pandemic global sports scene is getting back to normal.
For the meet, teams are allowed to fill their rosters with as many local Southeast Asian players, one foreign import, and one naturalized or heritage ASEAN player.
Photos from PBA Images, Chooks-to-Go Pilipinas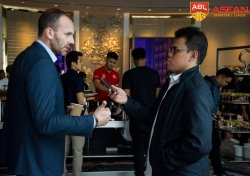 Latest posts by Levi Joshua Jr Verora
(see all)