Behind the production of Terrence Fortea and Zav Lucero, the University of the Philippines sealed its first double-digit win of the UAAP Season 85 Men's Basketball Tournament with a 76-51 drubbing over University of Santo Tomas on Saturday, Oct. 22, at the Ynares Sports Center.

Fortea led UP with 14 points in close to 23 minutes of action while Lucero produced 12 points, five rebounds, four assists, and five steals in 27 minutes of play.
"From our first game to our last game namin today, we definitely improved a lot on how we start the game," said State U coach Goldwin Monteverde. "I think we just have to work pa on yung consistency namin on how we start.
The Fighting Maroons enjoyed a hot start to the game when a Henry Galinato basket gave State U a 32-17 edge with 3:51 left in the second quarter.
In the third quarter, Terrence Fortea scored five straight baskets to give State U a commanding 57-29 cushion with 3:43 remaining before the final period.
Come the final period, UST standout Nic Cabanero concluded a 20-3 run with back-to-back triples to trim the UP lead to 49-60 with 5:49 left in the game.
However, the Fighting Maroons executed a 13-0 highlighted by Carl Tamayo's five consecutive points to extend the lead to 73-49 to eventually win 76-51.
UP relied on its three-point shooting at 33 percent behind a 9-of-27 shooting as well as its bench mob, which produced 34 points, to win the game.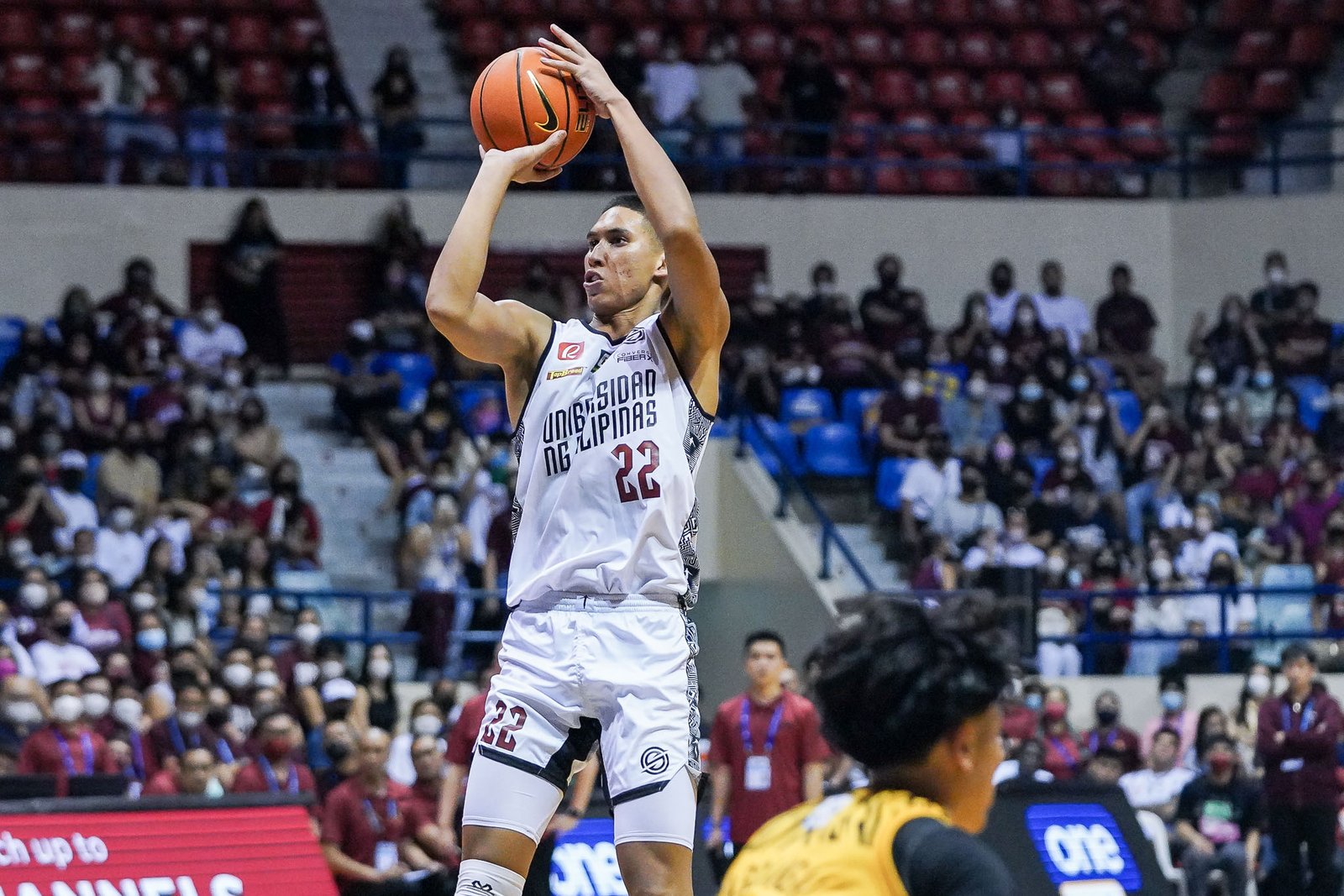 "We have to be more organized as a team especially in the middle of the second quarter. Definitely, whatever happened nung first round, we would work on it as a team," added Monteverde.
In contrast, UST only shot 13.6 percent on the back of three-out-of-22 three-point shooting and only had 14 bench points.
Adama Faye and Nic Cabanero held the fort for the Growling Tigers with 15 points and 13 rebounds and 14 points respectively.
The result means that UP ends the first round with a 6-1 record on the back of a three-game winning streak while UST does so with a dismal 1-6 record.
The Scores:
UP (76) – Fortea 14, Lucero 12, Abadiano 9, Tamayo 9, Andrews 7, Alarcon 5, Diouf 4, Ramos 3, Spencer 3, Eusebio 3, Calimag 2, Lina 2, Galinato 2, Gonzales 1, Torculas 0.
UST (51) – Faye 15, Cabanero 14, Lazarte 5, Calimag 5, Duremdes 3, Mantua 3, Manalang 2, Magdangal 2, Escubido 2, Manaytay 0, Pangilinan 0, Garing 0, Gesalam 0, Herrera 0.
Quarters: 19-8, 38-24, 58-37, 76-51.