CEBU City — The Philippine 3×3 teams of Cebu Chooks and Manila Chooks paid a courtesy visit to the office of Cebu City Mayor Mike Rama, less than two weeks before the 2022 FIBA 3×3 World Tour Cebu Masters which shall tip-off on October 1 at SM Seaside Mall here.
The contingent was led by top Philippine 3×3 player Mac Tallo of Cebu Chooks, along with the likes of playing coach Chico Lanete, mainstays Zachy Huang, Brandon Ramirez, Dennis Santos, Ken Holmqvist, Vince Tolentino, Dave Ando, and import Henry Iloka.
For the first time ever, Cebu will be hosting a Masters event, which is a top-level 3×3 tournament in FIBA's tier system at Level 10.
This will be a welcome development not only for the Queen City of the South but also for the passionate fans in the hoops hotbed.
The loaded roster of participating teams in the Cebu Masters features no less than the top-rated 3×3 squads in the world, including Latvia's Riga, Belgium's Antwerp, Netherlands' Amsterdam, Switzerland's Lausanne Sport, Mongolia's Ulaanbaatar MMC Energy and Sansar MMC Energy, United States' Omaha 3BALL, Saudi Arabia's Jeddah, Japan's Utsunomiya BREX and Saitama Alphas, Qatar's Doha QSC, and India's Ludhiana INBL.
There will be 12 representatives in the main tournament which will last from October 1 to 2 — 11 automatically-seeded teams and a winner from a qualifying draw where three teams will compete.
The 12 teams will be divided into four groups of three, with the top two in each advancing to the knockout quarterfinals.
Contributed photo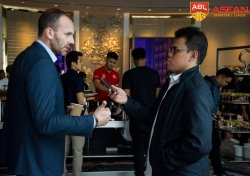 Latest posts by Levi Joshua Jr Verora
(see all)