Kyla Atienza continues to dazzle in the international volleyball scene.
The sensational libero brought her impressive skills at defending her side's back row to emerge as the Best Libero of the ASEAN Grand Prix that ended on Sunday with the Philippines missing the podium for the first time in three editions of the regional volleyball tournament.
The 25-year-old Atienza, playing out of Far Eastern University and in her second international stint, already impressed the home crowd during the Asian Volleyball Confederation Grand Prix that the Philippine National Volleyball Federation hosted last month at the PhilSports Arena.
Atienza and the Nationals, however, couldn't solve Indonesia's staying power and took a close 24-26, 22-25, 23-25 loss in the battle for the bronze medal in Nakhon Ratchasima, Thailand.
The opening set was a heartbreaker. The Philippines reached set point courtesy of Michele Gumabao and Jema Galanza but couldn't close it out as Indonesia's solid blocking went full throttle.
Back-to-back errors by the national women's squad at the end of the second set allowed the Indonesians to take a 2-0 set lead and Stiovanny Yoku Mediol and Nandita teamed up to overturn a 22-23 deficit into a third-set win for the bronze medal.
Galanza finished with 16 points built around 14 attacks, one block and one service ace, while Gumabao and Ced Domingo added 15 and 10 kills, respectively.
Tots Carlos, the leading scorer against host Thailand and Vietnam, finished with seven points for the Philippines which finished third in both the inaugural Nakhon Ratchasima tournament in September 2019 in Santa Rosa, Laguna in October 2019.
The Indonesians finished the short tournament with a 1-2 won-lost record.
Thailand made a perfect three-match sweep after beating Vietnam, 25-19, 25-17, 26-24 in the gold medal match.
The other individual awardees were Best Outside Hitters Tran Thi Thanh Thuy (Vietnam) and Ajcharaporn Kongyot (Thailand), Best Middle Blockers Thi Kieu Trinh Hoang (Vietnam) and Tichakorn Boonlert (Thailand), Best Setter Pornpun Guedpard (Thailand) Best Opposite Spiker Hangesri Pertiwi Megawati (Indonesia) and Most Valuable Player Pimpichaya Kokram (Thailand).
AVC Cup 2022 photo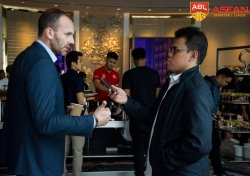 Latest posts by Levi Joshua Jr Verora
(see all)