Ateneo de Manila University faltered in its second tune-up game in Israel, absorbing a 73–81 defeat against pro team Elitzur Eito Ashkelon at the Zysman Arena on Monday evening (Manila time).
After trailing by seven points at halftime, the Blue Eagles saw a slow start to the third quarter which increased their opponents' lead to 12 heading to the final period.
They managed to trim the deficit down to five, 67-72, after a free throw by Forthsky Padrigao with 1:59 left in the fourth quarter.
However, multiple turnovers plagued the Blue Eagles down the stretch as the Israelis kept an eight-point cushion towards the end to secure the victory.
Yuval Haim led Elitzur Eito Ashkelon's charge with 17 points, four assists, two rebounds, and a steal while Alon Sapir followed with 15 points and five rebounds.
Meanwhile, Ange Kouame topscored for Ateneo with 16 points and nine rebounds. Both Padrigao and Chris Koon added 13 points apiece in a losing effort.
After dropping 27 points against Ramat HaSharon last Sunday, Dave Ildefonso was held down to just eight points on 5-of-13 shooting from the field.
As head coach Tab Baldwin earlier discussed, the team was only scheduled to play two games as part of their Israel camp, focusing more on polishing their system.
But the mentor emphasized that the Blue Eagles will try to play more exhibition matches once they return to Manila as they continue to build up for the upcoming UAAP Season 85.
"We don't have settled rosters. We don't have combinations that are used to working together. We have to get that. Time is running. (We had) such a disruptive build up in June and July because of injuries," Baldwin said earlier in the month. "When we come back (from Israel), we expect to be playing a lot of games.
The Blue Eagles are set to fly back to the Philippines on September 7.
Ateneo Scores
Kouame 16, Koon 13, Padrigao 13, Ildefonso 8, Obasa 8, Ballungay 4, Andrade 4, Garcia 3, Daves 2, Chiu 2, Lazaro 0, Gomez 0, Fetalvero 0, Quitevis 0, Fornilos 0.
Quarterscores: 18-19, 41-34, 61-49, 81-73.
Contributed photo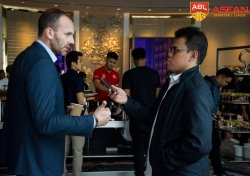 Latest posts by Levi Joshua Jr Verora
(see all)