The only reason why Chinese-Japanese college student Hiroyuki Yamasaki travelled to Manila, Philippines earlier this August was to attend a month-long summer English review classes in preparation for his TOEFL (Test of English as a Foreign Language), a standardized exam that tests how ready non-native speakers are usually before enrolling at an English-speaking university or later on for international employment.
Little did the 19-year-old know that he would be fulfilling his dream of watching Gilas Pilipinas and Utah Jazz star Jordan Clarkson live. The national team had long been scheduled to play Saudi Arabia at home as part of the 2023 FIBA World Cup Asian Qualifiers fourth window, and Yamasaki was informed of the incredible opportunity a week before the match.
It were his other classmates, who had bought General Admission section tickets earlier in the month, who shared the news with Yamasaki. There was only one caveat when he learned about the upcoming game: tickets had long been sold out.
With a loaded Gilas lineup that included Clarkson, Kai Sotto, Dwight Ramos, Ray Parks Jr., Kiefer and Thirdy Ravena, PBA MVP Scottie Thompson, and more, it was only fitting that the Gilas faithful was quick to secure their passes to see the national squad play.
But the Shanghai, China native was undeterred by this development. Knowing that it would be rare opportunity, he took his chance. He first asked around if scalpers were a thing in the Philippines. Upon knowing there is a slim chance of his being able to actually enter the venue, he and one of his classmates trooped to the Mall of Asia Arena on game day.
Fortunately, Standing Room Only (SRO) tickets for the Lower Box area were still up for grabs at MOA Arena's Coral Way ticketing booth. Yamasaki and his friend paid PhP 3,000 each for the same section where seated fans had paid PhP 5,000 each.
He would even pay part of his classmate's ticket, as the latter apparently wasn't much of a basketball fan like he is.
"Before I came inside, my friend actually didn't love basketball. When we arrived, scalpers sold it for double, triple, so we chose the SRO. I love basketball. I love Jordan Clarkson. I didn't care about the money," Yamasaki recalled.
Yamasaki became part of an 19,829-strong MOA Arena crowd, that included no less than current Philippine President Ferdinand "Bongbong" Marcos, Jr., a few senators, celebrities, and more.
"It was an unreal experience," Yamasaki shared. "And we were so close. I used to see him on TV. Now, I could see him, his real sweat, his tattoos. It was crazy."
Clarkson went on to lead Chot Reyes' wards in the 84-46 rout with 23 points, five rebounds, six assists, and a 5-of-8 mark from three-point area. His highlight-filled evening included a wild buzzer-beater from near halfcourt and a one-handed tomahawk slam in transition in the fourth quarter, when the game was already settled except for the final score.
This obviously thrilled Yamasaki, who fulfilled his dream of watching Clarkson play live for the first time in his life.
"When Clarkson scored his first goal, I screamed. Then, when he hit the buzzer-beater, I was so surprised and speechless," he added.
"I feel that he (Clarkson) is the strongest guard in Asia, the MJ of Asia, he directly dominates the game. I feel that every skill of his is different from the other players present."
Interestingly, he said he isn't even a Utah Jazz fan to begin with. He bared that his affection for Clarkson was particularly due to the fact that he has been admiring NBA sixth men — like Manu Ginobili, Lou Williams, and Jamal Crawford — for a long time now. He said that he appreciates how they perform each night, even if the spotlight usually belonged to all star starters.
"I became an NBA fan because of sixth men, because I also was a sixth man in my high school basketball team. In middle school, I only played for fun, but I became part of the high school (varsity) team," he said.
He also raved about the basketball culture in the country, mentioning the how rabid at times the Filipino fans got.
"The atmosphere here, I like it a lot. Especially when they shouted 'Defense! Defense!'," the Hyogo University freshman student said. "It's very different, a lot better than it is in Japan. It's very loud, and their fans were united."
Other than Clarkson, among those who impressed him the most, Yamasaki added, was Nagoya Diamond Dolphins wing man Ray Parks, Jr.
Born to a Chinese father and Japanese mother, Yamasaki is a freshman student at Hyogo University in Hyogo, Japan, the prefecture with Kobe as its capital. He's currently taking summer English classes at Enderun Colleges in McKinley Hill, Taguig, and is scheduled to return to Japan in mid-September.
Yamasaki has been a close follower of the sport. Ask him anything about hoops or bring up a particular topic, and the fan would just gamely share his thoughts and geek about it. Living in China — a country just as crazy about basketball as the Philippines — also helped in the process of Yamasaki developing a passion for the game.
He knows Yao Ming, Wang Zhizhi, Sun Yue — whom he referred to as "Kobe Bryant's friend" — Zhou Qi, Guo Ailun, and more Chinese basketball superstars. He's a fan of both Paul George and Kyrie Irving, and would take forever to talk about how George overcame his gruesome leg injury or Irving's handles.
"The year 2016 was the first year I paid attention to the NBA. Kyrie's Game 7 shot, after that, I just started watching his highlights," he added.
Ever since, Yamasaki has made it a habit to keep his attendance in events close to him and his hometown perfect as much as possible.
He was able to witness the NBA Global Games preseason duel between the Philadelphia 76ers and Dallas Mavericks at the Mercedes Benz Arena in his hometown of Shanghai back in 2018. A year after, Yamasaki also had the privilege of watching the 2019 FIBA World Cup at home, when the United States played Japan in the same venue.
"Every time an NBA team comes to China for the Global Games, I get a chance to watch," he noted.
No thanks to the global pandemic situation, Yamasaki's parents had worries about him traveling to the United States to watch NBA games live, even if he wanted to.
Luckily, the stars aligned for him — with an assist from a friend — as he was able to keep his streak of memorable live games watched intact and going.
"If I didn't meet (my friend), I wouldn't know this news. I couldn't go to this game. It's like fate. It was meant to be," he closed.
Photos from Roy Secretario/Sports Bytes Philippines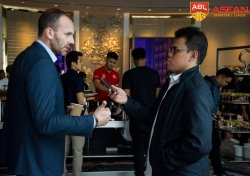 Latest posts by Levi Joshua Jr Verora
(see all)