With Gilas Pilipinas fielding one of its better lineups throughout the 2023 FIBA World Cup Asian Qualifiers, mainstay Dwight Ramos thinks the current roster needs just a bit more fortifying to be battle-ready for the prestigious international competition next year.
The Philippines drubbed Saudi Arabia by 38 on Monday in spite a slow start, with Ramos providing nine points and six rebounds. His performance was capped by a vicious poster dunk in the second quarter which jumpstarted a 10-0 run for the nationals and allowed them to control the game.
Showcasing the likes of one-time NBA Sixth Man of the Year winner Jordan Clarkson and 2022 NBA Draft entrant Kai Sotto, Gilas was able to give fans a glimpse of what they're capable of when they have better tools in the fold.
Ramos personally assessed their performance as fine given the limitations in practice, and believes that the current pool can square off even better against whichever opposition.
"Honestly, I think this is one of our stronger lineups. It was exciting. I was excited to play these two games," the 23-year-old Levanga Hokkaido import shared.
"Lots of work (to do) but with the limited practice, I think we did alright. We'll keep building, keep improving for the World Cup."
Also touting first-timers like Jamie Malonzo, Chris Newsome, and Roosevelt Adams, along with Japan B.League regulars Thirdy and Kiefer Ravena and Ray Parks, Jr., the Chot Reyes-coached squad pushed FIBA Asia Cup runners-up Lebanon to the hilt last week before ultimately falling, 81-85.
In addition, the 6-foot-4 wingman describes the current pool as already solid, with lots of room for improvement to make them even more competitive in the buildup for the World Cup.
"This team is really solid, in my opinion. I think if anything, it needs minor tweaks and a couple more players but whatever the coach decides, that's what we're going," Ramos said. "I think this team is good already."
Photo from Roy Secretario/Sports Bytes PH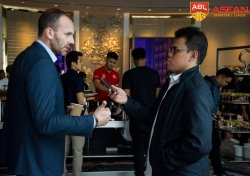 Latest posts by Levi Joshua Jr Verora
(see all)