Donning the Gilas Pilipinas jersey is nothing new for Bobby Ray Parks, Jr., having done it on several occasions across the youth, cadet, and men's seniors levels.
Not only that; Parks moreover has a penchant for playing in prestigious tournaments. Back in 2016, he suited up for the nationals in the 2016 FIBA Olympic Qualifying Tournament where the squad faced off against star-studded France and New Zealand rosters.
An NBA G-League veteran, Parks has even played against his current Gilas teammate Jordan Clarkson during the 2015 NBA Summer League, before he went on to have a lengthy stint with the Dallas Mavericks' affiliate team, Texas Legends.
"It's the game that we love. (We've) been to different places but at the end of the day, it's a small world out there. It means a lot not just for us as a team but for the whole country," Parks said of his experience when he went up against Clarkson's Summer League Lakers.
And in his latest tour of duty with Gilas, the Nagoya Diamond Dolphins wing man would also accomplish a first, when he made an appearance alongside the Utah Jazz guard and Adelaide 36ers center Kai Sotto — a moment Parks cherishes.
"Those guys are freakishly talented. I'm excited to see that we have a bright future for Kai and what JC still has in store throughout his young career in the NBA," he said. "Just love to be a part of it and be a witness like anybody else."
Parks saw action for 14 minutes in Gilas' 84-46 win last Monday over Saudi Arabia and produced six points, two rebounds, and three assists. Playing with a "home team" atmosphere for the first time since perhaps his ASEAN Basketball League run with Alab Pilipinas, the 6-foot-4 wing man said he feels grateful for the opportunity.
"Siyempre masaya. Alam mo naman tayong mga Pinoy, mahilig tayo sa basketball. 'Yung enthusiasm pati passion natin, naandon," he remarked.
"I feel we fed off the energy of the crowd talaga. It's good naman na nananalo tayo dito sa MOA."
If things align for the 29-year-old former TNT star, he will be making his maiden stint in the FIBA Basketball World Cup stage next year, which the Philippines is co-hosting alongside Indonesia and Japan.
His availability will ultimately depend on the Japan B.League's season schedule, but things look optimistic since the World Cup will run from August to September 2023 — which is global summer and usually the offseason for most international pro leagues.
The two-time UAAP and three-time ABL MVP describes the possible moment as something that would essentially complete his basketball career that had several stops and milestones in the process.
"If that happens, I'll take words out of my mouth. At the end of the day, it's just full circle. It's weird that I took a couple of years off from the national team but now I'm back," Parks shared.
"So it feels great to represent the country. It will be my honor, my privilege to be in the FIBA World Basketball Cup."
FIBA.basketball photo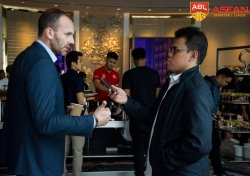 Latest posts by Levi Joshua Jr Verora
(see all)