One aspect of Jordan Clarkson's ongoing NBA career that will always be unique is the fact that he was able to play with both Kobe Bryant and LeBron James — two of basketball's greatest names ever.
Clarkson started his NBA journey with the Los Angeles Lakers back in 2014 when he was drafted 46th overall. This milestone enabled him to play alongside the late five-time NBA champion right off the bat.
Four seasons later, the now 30-year-old Clarkson would then be traded to the Cleveland Cavaliers alongside Larry Nance, Jr., giving him an opportunity to join forces with the four-time NBA MVP while boosting James' bench at the time.
Eventually, the Cavaliers clinched the Eastern Conference title, although got swept by the Golden State Warriors during the 2018 NBA Finals.
Now a veteran of the league and with an NBA Sixth Man of the Year plum across his basketball resumé, the 6-foot-4 Utah Jazz super sub is making it a conscious effort to bring the invaluable lessons he's learned from both the two superstars to Gilas Pilipinas — where he is the clear-cut leader of the pack.
"I've seen a lot of what those guys are doing, film sessions and the coaches, how they make adjustments," Clarkson, who noted that "attention to detail" was the most integral lesson he absorbed from Bryant and James, said.
"For me, staying and communicating with everybody, talking to them. That's the biggest thing I got from those two, especially paying attention to detail and studying film," he added.
Clarkson averaged 25 PPG, 5.5 RPG, 6.5 APG, and a 41.2 percent clip from three-point territory in the window. But what head coach Chot Reyes praised Clarkson for more was his leadership ability, something he thought the Fil-American guard was able to showcase more throughout the fourth window of the FIBA World Cup Asian Qualifiers.
"What we appreciate with JC besides what you see on the floor, what really stands out is his work ethic. The behind the scenes, he always comes in early, never late, never misses film sessions," Reyes said after the Philippines walloped Saudi Arabia, 84-46 on Monday night.
"In fact, there's a provision in his contract that he can't do two practices a day but he still went on and practiced when we had two practices. But I think, that's very, very important for our team. He is just one of the guys, always with us and doesn't excuse himself. That makes our jobs easier. I appreciate that as a coach. That's leadership."
Much has been said about Bryant's incredible work ethic, in particular, as well as James' unfathomable eye for breaking down games, and it seems Clarkson has taken both and is sharing as much as he could with the national squad.
Fans can expect better teamwork as well from Clarkson and the rest of the Philippine team too, as he hinted at being World Cup-ready next year.
"For us a team, we're getting it together these last couple of weeks. Me coming into practice maybe five times, just trying to figure it out quick so we can get ready for this World Cup next year and that's what it's about," Clarkson closed. "We're building something special so let's get it."
Photo from Roy Secretario/Sports Bytes Philippines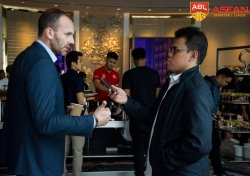 Latest posts by Levi Joshua Jr Verora
(see all)