The National University Bulldogs completed an 11-game sweep of the Filoil Ecooil 15th Preseason Cup, beating Far Eastern University in a grind-it-out finale, 56-46 on Saturday to win the preseason crown at the Filoil Ecooil Center in San Juan.
Big man Geremy Mahinay notched a double-double of 15 points and 10 rebounds, Omar John added 12 points, while John Lloyd Clemente chipped in 10 markers as the Bulldogs finished with an unblemished mark in the prestigious preseason tournament.
A strong second quarter saw the F. Jhocson side go on a 15-0 run to take a 24-12 lead and assume control of the match from there.
They outscored the Tamaraws, 21-10 in the second frame, and maintained the double-digit advantage towards the late part of the final period.
The Tamaraws pulled within 44-47 with over three minutes to play — the closest they were able to threaten before coach Jeff Napa's troops closed out strong with a telling 6-0 run which included four from John to push the gap up to 53-44.
NU shot significantly better at 37.7 percent from the field, compared to only 21.5 percent from FEU. The Bulldogs leaned on their bigs all-game long, also posting a 54-39 disparity in rebounding and a 26-18 edge in inside points.
The preseason championship is a momentum-booster for the Bulldogs, which only narrowly missed the Final Four ticket during the UAAP Season 84 men's basketball tournament.
UAAP Media photo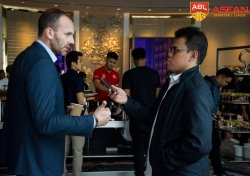 Latest posts by Levi Joshua Jr Verora
(see all)