The University of the East Red Warriors can finally call themselves champions after winning eluded them for a long time.
Veteran Harvey Pagsanjan had an all-around game of 13 points, four rebounds, and three assists as the Red Warriors used a strong fourth quarter run to pull away and fend off the Enderun Titans, 81-74 and win the PinoyLiga Cup Collegiate Division crown on Friday at the S.G.S. Gymnasium in Quezon City.
Winless during UAAP Season 84, UE led for most of the way, before two triples from Joshiel Gastador pulled the NAASCU runners-up within 55-56 late in the third quarter.
However, a scoring drought doomed the Titans, and the Red Warriors capitalized by unleashing an 11-1 run that pushed the advantage up to 79-61 with under four minutes remaining in the championship match.
Calvin Payawal had 10 points, nine rebounds, two assists, and three steals to backstop Pagsanjan, while Luis Salgado added 12 points and three steals for the Jack Santiago-coached Recto side.
Enderun tried its best to turn things around, cutting the deficit down to 74-80 on a Hans Delos Reyes layup with only 34 seconds left, but time simply ran out as the red and white were finally able to clinch the preseason crown.
T.J. Abdalah and A.J. Fransman each scored 18 points to pace the McKinley Hill-based squad. Abdalah shot 4-of-7 from three-point land while Fransman had eight boards. Delos Reyes added a double-double of 12 points and 10 boards.
The Red Warriors had a slim 40-36 lead in rebounding, and also converted more assists, 21-16. A dismal 8-of-22 clip from the free throw line also didn't help Enderun's cause.
U.E. is trying to turn its fortune around when UAAP Season 85 tips off in October, while Enderun is vying for its first ever NAASCU title when the competition returns later in the year.
UAAP media photo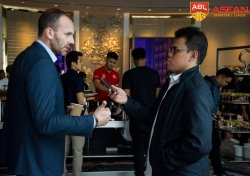 Latest posts by Levi Joshua Jr Verora
(see all)