1,783 total views, 4 views today
The Philippine women's national volleyball team's gallant stand against a regional powerhouse was not enough.
Bannered by a core composed of 2021 Southeast Asian Games gold medal winners, Thailand's firepower was simply too much for the eager Filipinas as the visitors scored a 25-18, 23-25, 25-20, 25-9 win in the quarterfinals of the AVC Cup for Women 2022 on Saturday in front of an electric PhilSports Arena crowd of over 5,200 in Pasig City.
Chatchu-on Moksri led all scorers with 21 points on 20 attacks, Pimpichaya Kokram added 14, while Thanacha Sooksod chipped in 12 for the Thais. They had a 68-45 disparity in kills.
Thailand will face defending AVC Cup for Women titlists China in the semifinals, while the Philippines has been relegated to the 5th-to-8th classification phase where it will battle Australia.
The reigning SEA Games champions also did a remarkable effort limiting Jema Galanza's exploits. Averaging 14 points in the pool stages, the open hitter and coach Sherwin Meneses' leading scorer was held down to only six points.
After surrendering the first set to the Thais, the Pinays bounced back in the next set, building a 20-17 lead after a rotation error from Thailand. The home squad took advantage eventually, with Galanza's off the block kill handing them the set, 25-23.
It would be the first time the nation has taken a set over the Southeast Asian contenders in either an edition of the biennial meet or an AVC tournament since the 1993 edition of the SEA Games, where the then Ramon "Tats" Suzara-coached Philippines won the crown.
The Philippines did steal a set from the Thais back during the 2019 ASEAN Grand Prix.
The Philippines then opened the third frame ahead, 9-6, but Pornpun Guedpard's shrewd playmaking enabled Thailand to break a 20-all deadlock and take the set using a 5-0 run.
It was all Thailand from there, as the no. 14-ranked nation flipped the switch and shut down the Philippines by racing to a 22-8 lead, drowning the energy inside the venue in the process.
Michele Gumabao and Tots Carlos led the Creamline Cool Smashers-backed nationals with 13 and 12, respectively.
Vietnam and Japan are bracketed in the other semifinals pairing, while Chinese Taipei and Iran will play each other in the other side of the consolation round.
AVC Cup 2022 photo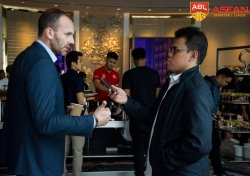 Latest posts by Nguyễn J. Văn Linh (Levi Verora)
(see all)