An inspired Philippine women's national volleyball team barged into the quarterfinals of the AVC Cup for Women 2022 after subduing South Korea in straight sets in its last preliminary match on Thursday at the PhilSports Arena in Pasig City.
Jema Galanza shone anew, topscoring with 12 points on 11 attacks while Celine Domingo and Tots Carlos added 11 and nine respectively as the Creamline Cool Smashers-backed national team clinched the playoffs berth via an impressive 25-18, 25-13, 25-17 sweep.
It was the second consecutive win for the squad, which finished third in Pool A with a 2-2 record. The team will regional rival Thailand, Pool B's second-ranked team, in the quarterfinals on Saturday.
"These two wins are amazing for Philippine volleyball, it's history—beating Iran and Korea for the last 30 years or more," Philippine National Volleyball Federation president Ramon "Tats" Suzara said.
The Philippines had a 12-3 advantage in blocks, had three more aces at 7-3, and pounced on Korea's 24 errors.
It took just a moment for the Philippines to assert control, with Galanza's attacks and Tots Carlos' precise serving handing the squad a strong 11-4 start in the opening set.
The separation grew later on, allowing head coach Sherwin Meneses to field in substitutes like Rose Vargas, Fille Cainglet-Cayetano, Ella De Jesus, and Kyle Negrito.
Korea managed to save three points, cutting the deficit down to 18-24 but a service error allowed the nationals to take the first set.
"We are so happy that we made it to the quarterfinals. Hopefully, we could have a better performance in the next round. We will try our very best," Meneses added.
Domingo then took charge in the second frame, with an ace pushing the advantage up to 19-10 before Pau Soriano and Lorie Bernardo were inserted to finish the job.
The Philippines' blocking did wonders in the next frame, going up 16-10 and eventually sealing the victory easily.
AVC Cup 2022 photo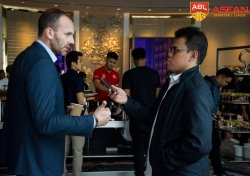 Latest posts by Levi Joshua Jr Verora
(see all)