Gilas Pilipinas survived a fourth quarter scare from Chinese Taipei to sweep the FIBA U18 Asian Championship 2022 group stage with an 84-73 win on Tuesday at the Azadi Basketball Hall in Tehran, Iran.
Taiwan erased a double-digit deficit early and pulled within four, 66-70 after a Te Chi Hsu bucket with just over six minutes left in the fourth quarter.
But the Filipinos had a strong 9-2 run in response which included three triples — two from Mason Amos and another from Jared Bahay for a 79-68 cushion under the final two minutes of regulation.
Amos had his finest scoring performance yet of the tournament, dropping a game-high 28 points on 12-of-20 shooting to go along with six rebounds and three assists. He also converted 4-of-10 from three-point area in the Philippines' third straight win.
James Phillip Nacua added 16 points on four triples; Joshua Caleb Coronel and Seven Gagate each tallied nine points, while Bahay chipped in eight markers and 10 rebounds.
For the third win in a row, head coach Josh Reyes' troops controlled the glass with a 46-41 rebound edge. They also distributed the ball better offensively, assisting 21 field goal makes compared to Chinese Taipei's 13.
Chun Sheng Chang led the island country with 24 points on a 50 percent shooting clip.
With a spotless 3-0 record in Group C, the Philippines will enter the quarterfinals tomorrow as one of the higher seeded teams. A draw will be made to determine their playoff pairing.
FIBA.basketball photo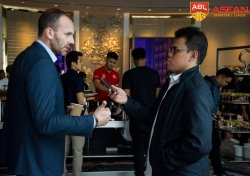 Latest posts by Levi Joshua Jr Verora
(see all)