A mighty China squad that was unrelenting on offense managed to dispatch a gallant Philippines side in straight sets, 25-16, 25-22, 25-20 on Tuesday in the AVC Cup for Women 2022 at the PhilSports Arena in Pasig City.
Wu Meng Jie carried the Chinese side with 24 points, all but one coming from attacks, to lead her team to a 3-0 in Pool A with one match remaining in the preliminary round. Zhuang Yu Shan added 10 points.
Tied at 8-all in the opening set, the Chinese raced to a 16-9 lead behind their precise attacking. The Philippines managed to pull within 17-14, but China did not have major problems as Yu Shan's crosscourt kill and Zhuang Xin Ru's service ace handing them the first set.
The one hour, 47-minute game didn't go without bright spots for the Philippines, particularly in the second and third sets where the nationals impressed and were always just within striking distance of the visitors.
In the second frame, Jema Galanza and Tots Carlos first conspired to hand the nationals a brief 7-4 lead. Later on, Michele Gumabao tied the count at 22-all with a service ace.
However, Wu answered with a powerful spike, before Celine Domingo got denied by Cao Ting Ting while Carlos committed an attack error that allowed China to go 2-0.
Undeterred, the squad composed of the core of the Creamline Cool Smashers took a sizable 12-8 lead in the next set, before Gumabao's back-to-back aces and an attack by Carlos made it 18-15.
Yu Shan though would finally take charge once she returned to the attack row, leading a 7-1 stretch for them for the 22-19 upper hand.
A Galanza attack error followed by Wu's two down the line hits finally sealed the win for China.
Carlos led head coach Sherwin Meneses' group with 15 points on 13 spikes and two aces, while Gumabao and Galanza both tallied 11 markers.
The Philippines will return to action tomorrow against Iran before rounding out its schedule on Thursday versus South Korea.
AVC Cup 2022 photo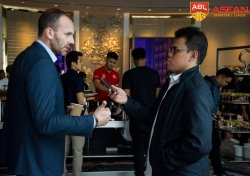 Latest posts by Levi Joshua Jr Verora
(see all)