Newcomer Sino F.C. stunned the defending AIA 7's Football League Men's Division 1 champions Manila Digger F.C. in come-from-behind fashion, 2-1 for a scintillating debut performance as Season 6 festivities of the country's premier seven-a-side competition opened last Sunday at the McKinley Hill Stadium in Taguig City.
It was Mendiola F.C. 1991 winger MJ Libre who punctuated the club's inspiring opening weekend win over the reigning titlists, slotting in the go-ahead goal in the second half via a penalty after Manila Digger entered the "penalty" situation by accumulating six team fouls — a rule unique to the 7's.
Sibide Ousmane opened the scoring to hand Manila Digger, which also copped the inaugural AIA 7's Football Cup over Mangtas F.C. the weekend prior, the lead in the first half.
But former United Football League super scorer Izo El Habib converted the equalizer just moments after, allowing Sino to even things at the half.
"It's an amazing feeling. We've known each other for a while. But this is quite different. We are so happy to take this win," an elated head coach Emmanuel Mbata shared.
While technically new to the 7's, Sino F.C. brought a star-studded cast which includes the likes of former Maharlika Manila F.C. defender Mateo Yuhico, Emmanuel Donkor, Emmanuel Otuyemi, and Rio Ani, who was coincidentally part of the Season 5 league-winning Manila Digger squad.
"We take every game as it comes. There is no easy team. We will just keep on working hard. It's not going to be easy. We'll fight for the ball and we will see how it goes from there," Mbata added.
Sino is a staple of the Weekend Futbol League (WFL) before making the big leap to the prestigious 7's Football League, the country's premier seven-a-side competition. They are also comprised of former Real Amigos F.C. players.
In other results, three-time Division 1 winners Rangers F.C. PH, formerly the Super Eagles, started their redemption quest on a sterling note, denying Garelli United, 2-0.
Manila Stars, composed primarily of Ghanaians, conquered En Fuego, 5-2. Spoly F.C. likewise had a successful debut in Division 1, dominating Middle Beast, 5-1. Spoly F.C. used to compete in Division 2 for several seasons, winning one title back in 2019.
Manhur-Pro Fit F.C. also joined the win column with a slim 3-2 victory over Maharlika Manila F.C.
For Season 6, a record-breaking 30 teams in the men's category — 10 each across three tiers — and 16 teams in two women's divisions are vying for glory.
Only the top four teams in each of the divisions advance to the knockout semifinals. The winners there will then advance to the finals for a prize pot as well as a chance for lower tier champions to be promoted.
The league will run every Sunday in the same venue until mid-November 2022.
Contributed photos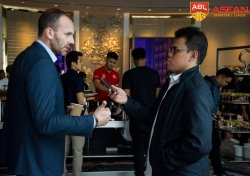 Latest posts by Levi Joshua Jr Verora
(see all)