Coach Aldin Ayo has resigned from his post as head trainer of the Chooks-to-Go Pilipinas 3×3 squads to focus on taking care of his ailing mother.
Ayo admitted it was a difficult decision that he had to make with a heavy heart. His 69-year-old mother has been diagnosed with stage four cancer and Ayo, an only child, wants to devote his time and attention to her fulltime.
"It was a tough decision to leave Chooks-to-Go Pilipinas but I need to be on my mom's side in the battle that she is facing," Ayo said.
"I'm very grateful to Bounty Agro Ventures, Inc. and Boss Ronald Mascarinas for giving me the opportunity to train and coach the Chooks-to-Go Pilipinas 3×3 National Team and to represent the country through the sport we love most. I'm forever grateful."
Ayo replaced Eric Altamirano as the head trainer of Chooks-to-Go Pilipinas 3×3 back in November 2020.
Under Ayo's watch, he led the Chooks team to greater heights, capped by winning the 2022 Chooks-to-Go FIBA 3×3 Super Quest — the country's first title in the pro circuit since 2014.
"We are thankful for the service of Coach Aldin Ayo not just to our teams but also to our organization. He brought a lot of changes to the way our team was run," Mascarinas said.
"Coach Aldin will always be family to us and we will be here for him and his family in these trying times."
Elder statesman Chico Lanete, who last suited up for Manila Chooks, will be the interim head coach of Chooks-to-Go Pilipinas 3×3 in the meantime.
Contributed photo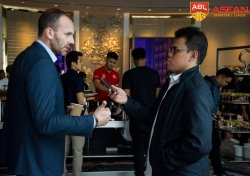 Latest posts by Levi Joshua Jr Verora
(see all)