National University (NU) Bulldogs big man Omar John understands he is far from becoming UAAP-ready.
But Bulldogs head coach Jeff Napa likes what he is seeing from the Senegalese recruit so far.
"As coaches, we're happy dahil 'yung talent, they're willing to learn, to input their talent doon sa system na gusto naming mangyari. Especially (Omar), he's new to our team pero last season, he always watched every game in order to become ready this coming season. Hopefully, it will translate this season," Napa said after NU conquered the College of Saint Benilde Blazers, 82-72 last Wednesday to go 5-0 in the 15th Filoil Ecooil Preseason Cup.
John had his most productive outing of the tournament so far in the win where the Bulldogs led by as much as 14 points and controlled the game. The foreign student-athlete scored 10 points, grabbed seven rebounds, and also had two blocks.
His performance merited him Player of the Game honors, helping the F. Jhocson-based squad zoom to their fifth consecutive victory and remain unblemished in Group A.
For Napa, it's John's willingness to learn and absorb valuable lessons every day that stands out; more importantly, this aspect translates to productivity inside the court.
"As a team, we care a lot about his improvement in order for him to become ready for the upcoming season. He's still new to Philippine basketball," Napa said.
"He's still adjusting and still learning but the good thing is Omar and the other guys are willing to learn and accept their mistakes, improve, (and) adjust so we'll see. We always keep correcting him kasi he knows naman it's for his (betterment). He's a very nice person. He's a nice guy. Good player, always listens to what coaches tell him. He always accepts the (criticism) too."
A testament to how much John takes his NU stint seriously reflected during UAAP Season 84, when the Bulldogs narrowly missed a playoff for the Final Four. While the slotman didn't play, he shared that he cried just watching his teammates get eliminated, because he didn't want the feeling of losing.
Now, he hopes he translate all the effort he exerts in practices to wins, as the Bulldogs try to return to contender status in the UAAP.
"It's not that easy for me honestly, because it's so physical. It just try to get used to it and my coaches also help me. That's good for me and I hope the following season, I can be ready," John said.
"After practice, they try to give me skills (training) and I try to translate that (in games). When I am on the court, I am like a lion. I don't want to lose anymore."
Photo from Filoil Ecooil Sports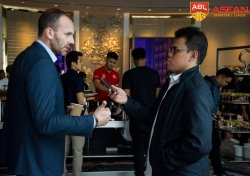 Latest posts by Levi Joshua Jr Verora
(see all)