While it is common for collegiate basketball teams to participate in simultaneous preseason tournaments, it's still a rare occurrence to have one win three straight games in less than a two-day span — let alone play in three games across different leagues.
The defending UAAP men's seniors basketball champions U.P. Fighting Maroons made quite an interesting feat earlier this week, registering three wins in their preseason tournaments: the Filoil Ecooil Cup, UCBL Invitational, and PinoyLiga Cup.
The winning streak started on Tuesday afternoon, when the Diliman squad beat Far Eastern University in the PG Flex Linoleum UCBL Invitational 2022, 72-56 at the SGS Gym in Quezon City. Gilas Pilipinas mainstay Carl Tamayo paced the Maroons with 19 points and six rebounds in the win.
The day after, U.P. dominated the Mapua Cardinals at the Gatorade Hoops Center in Mandaluyong, 86-62 behind Terrence Fortea's all-around output of 20 points, three rebounds, and four assists. R.C. Calimag added 15 points on 6-of-10 shooting.
Fresh off that 12 noon game, the Maroons trooped to the Filoil Ecooil Center in San Juan later that Wednesday afternoon, about a 30-minute drive from the Gatorade Hoops Center, to finish their final assignment of the stretch against the College of St. Benilde Blazers at 5 p.m.
Astoundingly, U.P. scored a scintillating 117-61 walloping of the NCAA side, with Calimag powering the squad with his game-high 21 points. New recruit Henry Galinato tallied a near double-double of 16 points and nine boards, while Carl Tamayo and Harold Alarcon chipped in 14 points apiece.
The preseason grind and the results it is producing are testament to head coach Goldwin Monteverde and the Fighting Maroons' work ethic ahead of UAAP Season 85 as they remain focused on their main goal of successfully defending the UAAP crown.
Photo from UAAP Media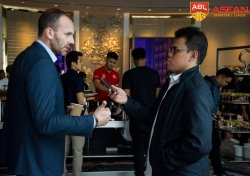 Latest posts by Levi Joshua Jr Verora
(see all)