3,089 total views, 2 views today
As Gilas Pilipinas continues to prepare for the FIBA Basketball World Cup 2023 next year which the country is co-hosting, head coach Chot Reyes is firm on composing the "best team possible" for the prestigious international competition.
However, with still 13 months before the World Cup tips off in August 2023, the long-time national team tactician is also wary that nothing is final yet.
"Whatever that composition is, it's still too early to tell. I heard Coach Tim Cone's interview last night and he said that even he cannot pick a 12 man lineup at this point. It's still too early too tell," Reyes said on the show Power & Play with Noli Eala.
And even if 2021 NBA 6th Man of the Year Jordan Clarkson has already signified his commitment to suit up for the World Cup next year, Reyes said there is no guarantee that the Utah Jazz super sub will be the designated naturalized player of the squad, for now.
"Jordan Clarkson has already committed that he is going to be available for the World Cup. Will he be the final naturalized player? That remains to be seen," Reyes shared.
"Ayoko naman magsalita ng patapos. It's kinda hard to keep a talent like Jordan Clarkson if he's available. More importantly, he has committed a four to six-week practice time for the run up to the World Cup. Para sa kababayan natin, relax lang kayo."
Clarkson last suited up for the Philippines back during the 2018 Asian Games, carrying a ragtag group to a fifth place finish.
What's important, nevertheless is that Reyes will have a closer look at how Clarkson fits alongside the current Gilas core that includes the Ravena brothers Kiefer and Thirdy, Ray Parks, Dwight Ramos, and Carl Tamayo, to name a few.
The 6-foot-4 guard will reportedly play for the Philippines in the fourth window of the World Cup Asian Qualifiers next month, which includes games against Lebanon and Saudi Arabia.
"For example now, we'll take a look si Jordan Clarkson. Can he play with Thirdy Ravena, Ray Parks, and other PBA guys? We are confident it will help us in 2023," the TNT Tropang Giga mentor added.
As people pretty much know by now, Gilas' de facto naturalized player for the past year and a half, Ange Kouame, has been sidelined since June due to a partial ACL tear.
Reyes is also looking forward to potentially having more PBA players in the next window. Northport's Jaime Malonzo, who apparently is considered a local under FIBA rules as reported by multiple media outlets, is another name that may see action for Gilas in August.
"In the next window, we will have quite a number of PBA players in the lineup. Ihahalo na natin sila from the core of FIBA Asia. We are going to see now kung sino ang puwede. It is a work in progress. Now na na-eliminate na yung Northport, so I can already say that we are looking at Malonzo," Reyes mentioned.
"How can he work with these guys? Can he work with Carl Tamayo or a Dwight Ramos? Dwight Ramos is already working out and gave us his commitment."
What is clear is that as early as now, Reyes, the Samahang Basketbol ng Pilipinas (SBP), and basketball stakeholders in general are already constantly talking about the potential final roster for the World Cup as they aim to have the strongest 12-man lineup possible.
They are also using international tournaments and the remainder of the World Cup qualifiers windows to experiment on who fits the system well enough to be in consideration for the final roster spots.
"Those are the things we are already talking about. Of course, we are not making any final determination, we don't want to pre-empt ourselves. We want to give a lot of people a chance. Malayo pa naman e. Ang importante, we are taking a look at a lot of players," Reyes concluded.
FIBA.basketball photos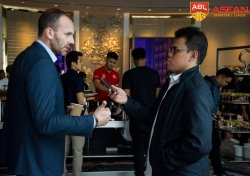 Latest posts by Nguyễn J. Văn Linh (Levi Verora)
(see all)