Filipino boxing legend Manny "Pacman" Pacquiao will return to the boxing ring on December 11, 2022 to face Korean martial arts master DK Yoo in a fight billed as a charity exhibition match to be held in Seoul, South Korea.
More details of their upcoming December 2022 fight have been unveiled in a press conference and contract signing event held at Shangri-La The Fort Hotel in Taguig City, Philippines.
What is known so far is that the fight, which obviously will not count in either of the two protagonists' professional boxing records, will consist of six two-minute rounds. There will be no head gears used. In the other hand, not a lot has been revealed yet when it comes to the undercard matches, official TV broadcast rights holders, venue, weight of the gloves, and so on.
DK Yoo is widely regarded as the "Master of Martial Arts" as he practices 15 disciplines. He stands 5-foot-10 and weighs about 185 pounds, significantly heavier than his Filipino counterpart.
Like Pacquiao, he is 43 years old. He is renowned on social media with over 400,000 followers on Instagram, and is known for introducing the "Warfare Combat System".
Last year, the Korean combatant survived six two-minute rounds of exhibition boxing against the now 33-year-old Brad Scott (11 wins, 6 losses), a legitimate MMA fighter who has seen action in the UFC.
Part of the proceeds of Pacquiao and Yoo's match will benefit rehabilitation efforts for war-torn Ukraine, while Pacquiao has also pledged to donate his earnings from the fight to his Pacman Village housing project, emphasizing there's a lot of work to be done for those in need.
"This charity event will allow us to help more people, especially those in need. We will be able to build houses for my homeless countrymen. The Pacman Village, we have started putting up shelter units but there are still vacant lots that need to be filled," the former Philippine senator said.
"This is one of the ways which allows us to generate income that will help more homeless families to have homes, because that's my advocacy."
However, people optimistic about a formal Pacquiao (62 wins, 8 losses, 2 draws) return to professional boxing because of the upcoming match should focus instead on other things. The eight division world champion stood firm on saying he remains retired following his 2021 social media announcement that he has already hung up his gloves.
"There are no plans (to return). I announced my retirement (last year). In my mind, I'm still retired," he stated.
And the way he sounded during the press conference, Pacquiao did seem more concerned being able to continue his philanthropy work instead of thinking of an official ring return.
"More than returning to the boxing ring, I'm more excited to be able to have a way to help more families through this event."
For his part, Yoo said it's an honor to share the squared circle with a legendary boxing figure, and he hopes to do his best.
"He is a legend not only in the Philippines but the entire world. For sure, there is a great chance I lose this fight but I will try my best to try and surprise him," he said.
Yoo even shared that it was his utmost respect for Pacquiao that made him choose the multi-titled Filipino star as his opponent for the charity fight over other bigtime names like Logan Paul and even Pacquiao's rival Floyd Mayweather, Jr.
"As early as now, I am reviewing the tapes of his previous fights to learn his tendencies and moves. I am also training with the best boxing coach in Korea."
It will be the first time Pacquiao is stepping into the ring since losing a welterweight title fight to Cuban Yordenis Ugas last August 21, 2021. He focused on his campaign as a presidential candidate after that fight, ultimately losing the electoral race in May.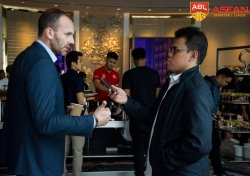 Latest posts by Levi Joshua Jr Verora
(see all)