The upcoming FIBA 3×3 Asia Cup 2022 in Singapore will not be the first rodeo for both Gilas Pilipinas Women mainstays Camille Clarin and Katrina Guytingco in an organized 3×3 event.
Clarin has represented the Philippines in both the FIBA 3×3 Asia Cup U18 — even winning the bronze medal — and World Cup U18 before, while Guytingco has dedicated herself in the past year and a half playing for the WNBL 3×3 circuit.
But the two both understand the magnitude of playing 3×3 hoops in the seniors level in a major international tournament for the first time — a challenge they are embracing.
"For sure, FIBA will be a different level, the competition is very talented, some of the players are bigger than us, there's physicality, the speed of the game for sure," the 24-year-old Guytingco said.
"The competitiveness will be way higher than it was in the WNBL. That is something I am looking forward to and taking as a challenge."
The two wings, along with sharpshooter Khate Castillo and mainstay Afril Bernardino will make up the four-woman Gilas side which shall face Jordan and Thailand in the qualifying draw on July 7.
In the process of selecting the final roster, Gilas women's seniors national team head coach and overall program director Patrick Aquino opted for more versatility and shooting, sacrificing some size in the process.
"Personally, I feel blessed that I was chosen. It came as a surprise. I always wanted to play in the women's (3×3) circuit, but it always felt out of reach, so now I am in a position and I am definitely not going to take it lightly," Clarin said.
"Playing against and with people I idolize, I think that's just a big responsibility on my end. I'm just gonna go hard every time I get and try to take in everything they're teaching me."
Only Bernardino will return from the 2021 Hanoi SEA Games roster which featured Janine Pontejos, Clare Castro, and Angelica Surada.
Clarin revealed that as part of a bit of a shakeup for the 3×3 side of things within the women's national team, Pontejos and Castro both opted to take a step back to see what the current version of the squad will be able to accomplish in the continental joust.
"I think Janine, she just really wanted to give the younger girls a chance to finally play in the circuit because honestly, there is going to be a transition within the next couple of years with the teams. With Clare, again, I think Coach Pat (Aquino) wanted to try it out with a smaller, more explosive player," the 21-year-old former NU Lady Bulldog shared.
"Clare is definitely a threat on the inside but (Aquino) wants (the 3×3 players) to be two-way players as well, offense and defense. Clare understands her role and she definitely wants to give me and Trina a chance to kind of show our skills and see which ones fit best (for 3×3)."
Guytingco sees some strengths in the lineup where the Philippines is poised to lean on their outside shooting and switching defense a bit more in the discipline of basketball sometimes called a "10-minute sprint".
"I love our lineup. Since we all kind of have the same height, it makes it a lot easier thinking we are all capable of doing the same things," the former Ateneo Blue Eagle said.
"Even though Khate (Castillo) is not a big rebounder, we need her for her shooting; she's a sharpshooter. Our chemistry, it took a while. We're still molding, but I have faith that we have trust in each other. We'll do the best that we can."
Right after their 5-on-5 gold medal-winning stint in Vietnam last May, the players only took two weeks off to recover and went straight back to training regularly.
They even held a one-day friendly tournament which featured two-time WNBL 3×3 champions Uratex Dream and the Singapore women's national team.
The Dream, whose lineup includes the top two Filipina 3×3 players in Kristina Deacon and Kaye Pingol, have also been prepping Gilas better through a series of practice 3×3 games.
Aside from looking to do good in the competition, Gilas is also seeking vengeance against Thailand, a squad which beat them in the SEA Games and prevented them a podium finish in the 3×3 event.
"I think that's been our main goal since the start. We already matched up with Jordan before in a couple of scrimmages last year when we played in the Asia Cup so we know how they play, but Thailand, in our campaign in the SEA Games, we definitely didn't show our best, but we did show potential or ability to beat them," Clarin added.
"I think we know what to do this time and we have the right tools."
The ladies will definitely have the proper tools and sufficient amount of preparation entering Thursday's battles. It will only be a matter of being able to translate them into victories — and the team is optimistic it can be done given the dynamic of the roster.
"I think after the SEA Games, we wanted to focus more on having outside shooters, because in 3×3, it makes a big difference scoring from the outside. The two pointers really make the game go quicker so I think Coach Pat wanted to have a faster, more explosive team," Clarin closed.
"We have a lot of different shooters so I think that's going to help us in the end. We will make a lot of difference from the outside while still being able to attack."
Clarin photo from FIBA.basketball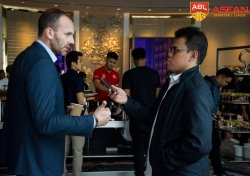 Latest posts by Levi Joshua Jr Verora
(see all)