4,063 total views, 2 views today
Filipina squad Uratex Dream had a perfect opening day in the 3×3 Basketball Thai Super League 2022 tournament in Central Ayutthaya on Wednesday, sweeping all three matches to top Pool A action.
In their third game, Uratex erased a four-point hole behind Kristina Deacon and Alyssa Villamor to repulse Luang Prabang of Laos, 21-14 (8:06) and take the top spot in Pool A.
Down 5-9 against Larnoy Doangpasith, Phetphavanh Chanthala, Thidaporn Maihom, and Atchara Kaichayapoom, the two combined for four points in a 6-1 run that have the Dream the lead.
Later, Villamor would drain a two-pointer, followed by three inside shots from Eunique Chan as Uratex extend the lead up to 19-14.
Villamor capped the match with a deuce off a miss, sealing the win with 1:54 left.
Deacon top-scored with eight points, while Villamor had seven markers including three long-range connections.
Earlier, it was also Villamor who waxed hot as the former Ateneo Lady Eagle dropped 14 points which included five twos as Uratex also beat the NK Bangkok Club of Thailand, 21-16.
The Thai club was composed of Jirawan Rungrueang, Kanyanat Sunchatavirul, Pichaya Sorntem, and Warinthon Summa.
Villamor had eight markers in Uratex's opening 21-7 conquest over Jumpshot Singapore.
Discovery Perlas takes second seed in Pool B
Discovery Perlas also had a strong showing, winning two out of three assignments all-afternoon long to finish with the second seed in Pool B.
Ford Grajales picked up from where she left off in Perlas' opening win, scoring eight points — all on twos — in their 21-14 win (8:09) over Malaysia Rising Star's Elaine Chong Hui Lin, Jing Xuan Ng, Suet Ying Foo, and Wong Chah Yee.
Tied at 12-all, Grajales and Allana Lim conspired for a 9-2 closing run which handed Perlas their second win of the day.
Lim had back-to-back layups that finished the game with 1:51 to go. The former FEU stalwart had six points.
Discovery also won their opening game, 22-17 over Sriracha Eagle Thailand, with Grajales and Lim both scoring eight markers.
The only blemish in Day 1 for both Filipina teams was Discovery's slim 21-17 defeat (9:36.7) to Shooot it Dragons (Thailand), which featured SEA Games women's 3×3 gold medalists Rujiwan Bunsinprom and Amphawa Thuamon along with Thunchanok Lumdappang and Supira Klanbut.
Hazelle Yam and Allana Lim powered Perlas to an 11-6 start, but coach Haydee Ong's group was unable to sustain the momentum as the home side fought back.
Amphawa first scored a bunch of baskets to tie the count at 15 apiece. Later, Yam gave Discovery a 17-16 edge, but Warunee keyed in a 6-0 closing run as the Thais stole the win.
Uratex will face the No. 4 team in Pool B, while Discovery will battle the No. 3 seed in Pool A in tomorrow's quarterfinals.
Deacon photo from NBL-Pilipinas Facebook page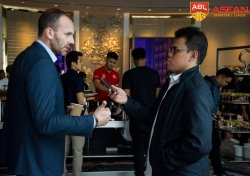 Latest posts by Nguyễn J. Văn Linh (Levi Verora)
(see all)