The steady rise of Cebu and Manila Chooks as formidable FIBA 3×3 teams has not gone unnoticed.
No less than the current top-ranked FIBA 3×3 player in the world, Serbia's Strahinja Stojacic heaped praise particularly for Cebu Chooks, which gave his Ub Huishan NE squad some fits during the pool stages of the FIBA 3×3 World Tour 2022 Manila Masters.
"They are so good players. They played a good game and for sure they will play better, because they're still playing five-on-five aside from 3×3, but if they prepare for it, they're going to be a great team," Stojacic said of their counterparts.
Cebu, bannered by the nation's No. 1 and No. 2 players Mac Tallo and Zachy Huang, along with Brandon Ramirez and Mike Harry Nzeusseu, pushed Ub — the world No. 1 3×3 team — to the limit before bowing down, 21-17 on Saturday at the Ayala Malls Manila Bay.
The Filipino side took a 14-12 lead at one point, but Ub banked on their vast experience to get things done afterwards behind Stojacic's teammate and world No. 2 Dejan "The Maestro" Majstrorovic and avoid an upset.
Still, Tallo acknowledged the magnitude and privilege of being in a situation where they can learn from the best, also considering the long view.
"Malaking bagay talaga sa amin 'to dahil kulang kami sa experience. In order to get that, we have to play more games," he said.
Interestingly, Ub's squad has been in Manila for almost two weeks now, practicing with Cebu Chooks themselves in order to make sure they keep their status as the best 3×3 team in the planet.
Since the 3×3 discipline is "totally different", Stojacic also spoke volumes about playing collectively for years as the ideal formula for success in 3×3, in a way also giving sound advice to the Philippine Chooks teams.
"It's a totally different game. All of us in Team Ub, we still play five-on-five (before) but if you want to be a professional, there has to be just one way, five-on-five or three-on-three," Stojacic said.
"And all of the guys said, okay, we want to play 3×3. And now, we're the best team in the world."
True enough, that continuity has been the key for Ub to establish themselves as a powerhouse in the 3×3 game, winning two Masters titles and two runner-up finishes in the 2021 World Tour calendar.
The Serbian side is also entering the Manila Masters having won the Utsonomiya Masters opener earlier in the month.
It was not an easy path for the team, which had been playing in the FIBA 3×3 circuit since 2018.
The first few years were fruitless for Stojacic and his teammates, but keeping the core intact and constantly participating in tournaments have shaped them to what they are now: the standard in 3×3.
When asked about his status as the world's top-ranked 3×3 player, the 6-foot-6 forward couldn't care less, mentioning that he'd rather focus on the accolades they would win collectively.
Personally, I don't think too much about it, for me, what is most important is to play good as a team, and to win every Masters like we did in Utsonomiya (last week)," he shared.
"What we are doing here is to be the best team. In sports, it doesn't matter who's the MVP, it's just who the best team is."
It's only fitting for Stojacic to make a stop in Manila for the first time in his career as well, being able to share the same passion for hoops as basketball-crazy Filipinos while hoping they can continue to inspire the next generation of 3×3 players.
"When I started 3×3, it was a good game but there was not too much popularity in the world. Maybe there were only three, four, or five countries that play FIBA 3×3," he closed. "But now, I think everybody knows 3×3 and more countries want to come and play with us."
FIBA.basketball photos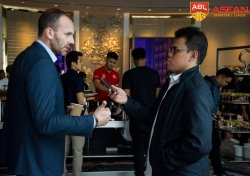 Latest posts by Levi Joshua Jr Verora
(see all)