The milestones continue for the Philippine women's national football team.
The Filipinas mounted a dramatic comeback behind two second half goals to repulse Myanmar on Saturday, 2-1 at the Cam Pha Stadium in Quang Ninh and win the bronze medal in the 31st Southeast Asian Games Vietnam 2021 women's football tournament.
Midfielder Sarina Bolden and forward Quinley Quezada scored within a four-minute span in the second half, as the Filipinas won their first medal in the biennial meet since 1985 in front of more than 11,000 fans.
After a couple of missed opportunities for more than an hour, the Philippines equalized in the 73rd minute behind Bolden's fantastic run.
Carleigh Frilles set up a beautiful through ball from the midfield and targeted Bolden, who got to the ball while being chased by two defenders.
Bolden would then volley with enough power as the ball slipped the hands of Burmese keeper May Zin Nwe and into the goal.
Just three minutes after, Quezada gave the Filipinas the upper hand from an assist by Bolden off a corner kick.
Quezada flicked the ball with her left foot with enough English to sail it past a few defenders and behind the net.
Myanmar scored the opener in the 24th minute via penalty, after center back Hali Long committed a costly foul inside the box against Win Theingi Tun.
Malea Cesar got dispossessed moments earlier, which led to a counterattack from the Burmese side.
A fine through ball for captain Khin Marlar Tun led to a cross for Tun. Long initially deflected the ball, but her momentum caused her to collide onto Tun.
Tun would convert the penalty easily, volleying it to the right bottom corner without much resistance from Pinay keeper Olivia McDaniel.
The bronze medal finish is the highest achievement for the World Cup-bound Philippines in the SEA Games level, which comes more decisive than their 1985 podium finish when there were only three nations competing.
The Filipinas made the semifinals of both the 2017 and 2019 editions.
Interestingly, they lost to Myanmar in the 2019 battle for third place, 2-1 when it was the Burmese side which came back from a goal down and scored two goals late.
The reversal this time around was also the Filipinas' first-ever victory over Myanmar in an international football competition.
Photo from Philippine Women's National Football Team Facebook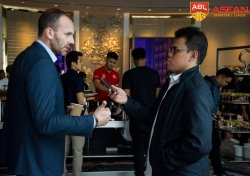 Latest posts by Levi Joshua Jr Verora
(see all)