Rubilen Amit completed a golden double after edging Chezka Centeno in the all-Filipina final of the women's 10-ball event of the 31st Southeast Asian Games Vietnam 2021, 7-5 on Saturday at the Hà Đông District Sporting Hall in Hanoi.
Amit raced to a 5-2 lead in the Race-to-7 gold medal match, and appeared to be on her way to a four-rack lead but scratched the cue ball when it hit the wide-open 5-ball with a top spin.
The cue ball immediately followed the 5-ball to the corner pocket. Before the shot, Centeno committed a scratch while targeting a hidden 1-ball after Amit's safety.
Centeno eventually tied the game at five racks apiece. However, she committed a costly dry break in the 11th rack, which gave momentum back to Amit.
"Bingkay" would not have problems anymore, taking the last two racks to win her second gold medal in this year's SEA Games.
After the championship match, Centeno raised the arm of Amit, in salute to the world champion cue artist who is 18 years her senior.
Just days ago, Amit won the women's 9-ball gold medal by ousting Singapore's Jessica Tan in the final.
Nevertheless, the silver medal will be the first for Centeno in this edition of the biennial meet, adding to her SEA Games career total of six.
The Philippine contingent increased its medal haul from the sport to a total of 10, with Carlo Biado and Johann Chua still yet to face each other in the final of the men's 10-ball category.
Screengrab from VTC TIN MOI YouTube livestream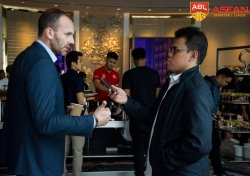 Latest posts by Levi Joshua Jr Verora
(see all)