Chezka Centeno's bid for back-to-back gold medals remained intact after a prevailing in the semifinals of the women's 10-ball event of the 31st Southeast Asian Games Vietnam 2021 over hometown bet Xuan Vang Bui, 7-5 on Friday at the Hà Đông District Sporting Hall in Hanoi.
The 22-year-old Centeno almost blew a 6-3 lead after committing a scratch after her 11th rack break in the alternate-break match, but bested Xuan the 12th rack of the Race-to-7 semis encounter.
The two cue artists split the first six racks of the game, and Xuan appeared to be on her way to taking a 4-3 lead.
However, the Vietnamese muffed a shot on the 7-ball, allowing Centeno to steal the seventh rack.
In the next rack, Xuan sank three balls on her break, but had the 1-ball against the rail, which forced her to attempt a safety shot.
Centeno converted the 1-ball on a thin cut, allowing her to take the rack before a runout in the ninth rack to extend her lead to 6-3.
Xuan took the next two racks after, but had a precarious situation in the 12th rack when the 8- and 6-balls blocked the corner pocket from the 3-ball.
The 29-year-old Ho Chi Minh City native opted for a safety, but Centeno was eventually able to clinch the win.
With the win, Centeno forged an all-Filipina final in the 10-ball event.
In the other semis pairing, veteran Rubilen Amit impressively swept Thai representative Pennipa Nakjui 7-0.
Screengrab from VTV The Thao YouTube livestream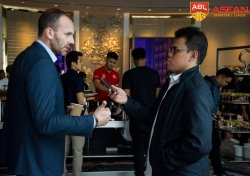 Latest posts by Levi Joshua Jr Verora
(see all)