The Philippine women's national football team's quest for an elusive gold medal came to an end as they were outclassed by rivals Thailand, 3-0 on Wednesday in the 31st Southeast Asian Games Vietnam 2021 at the Cam Pha Stadium.
The Thais found the back of the net on the 22nd minute, behind captain Silawan Intamee of Chonburi FC after she was able to adjust on the fly and volley one past Filipina goalkeeper Olivia McDaniel.
It was Orapin Waenngoen who set Intamee up with a well-timed lob from the right flank, which flew past the defense of Eva Madarang and into the box.
Intamee initially tried to head it in, but mishit although she recovered the ball leading to a shot fake to confuse McDaniel, before recalibrating for the opening goal.
Later in the 27th minute, the Filipinas had a chance to equalize, as Tahnai Annis' corner kick was deflected by Thai keeper Waraporn Boonsing but went straight in front of Sarina Bolden just a few yards from the goal.
However, Nipawan Panyosuk was there to bother Bolden, preventing her from an attempt.
Thailand almost doubled their lead in the 33rd minute, but a header from Kanyanat Chetthabutr was collected by McDaniel.
The Philippines had two more opportunities in the 40th and 43rd minutes, but Quinley Quezada was dispossessed after a through ball while Hali Long's turn and volley outside the box was deflected.
Long also tried to convert a free kick from Annis off a set piece inside the box, but her shot went above the bar.
Thailand eventually doubled the margin with a strike from Taneekarn Dangda in the 47th minute, making a turn and rifling in the second goal for the War Elephants.
Punctuating the win in the 90+1 minute mark was Panpatchara Somnuek, who was uncontested after a fine run made by Saowalak Pengngam who assisted for the squad's third goal.
The Philippines will face the loser of the Vietnam-Myanmar semifinal pairing for the battle for bronze on Saturday, May 21.
Photo from PWNFT Facebook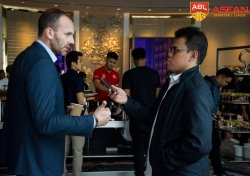 Latest posts by Levi Joshua Jr Verora
(see all)