Indonesia prevailed over Thailand in a crucial men's 5-on-5 basketball affair at the 31st Southeast Asian Games Vietnam 2021, 78-75 on Wednesday at the Thanh Tri Gymnasium in Hanoi.
Prastawa Dhyaksa drained a huge triple to give Indonesia a 75-74 edge after Antonio Price pushed Thailand ahead.
Later, Michael Xzavierro's bucket made it a three-point lead, 77-74 with under a minute left. Indonesia then strategically fouled Price while ahead by three with 5.9 seconds to go.
Price made the first and intentionally missed the second, but it was Xzavierro who corralled the rebound.
He would score a split from the line that left the door open for the Thais, but Price and Freddie Lish could only muster misses in the final possession.
Brandon Jawato once again had an all-around game to lead the Indonesians with 21 points, 13 rebounds, and four assists. Xzavierro added 16 points, 13 boards, and two blocks while Dhyaksa had 16 markers including four three-point makes, three assists, and three steals.
In contrast, Price was a one-man wrecking crew for Thailand, notching 41 points but shot 11-of-28 from the field and 2-of-10 from long distance.
Main guns like Lish, Moses Morgan, and Nattakarn Muangboon were limited to only 15 points on 5-of-21 shooting combined.
The victory improved Indonesia's medal chances in a single-round robin tournament format where there are no semifinals nor finals.
Indonesia now sits at 2-0 in the team standings, forcing a three-way tie with fellow medal contenders Gilas Pilipinas and Vietnam — both of which the Indonesians are yet to face.
Thailand, on the other hand, dropped to 1-2 with Vietnam and Singapore still part of their schedule.
File photo from FIBA.basketball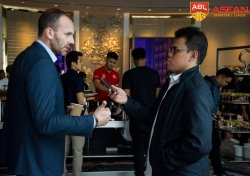 Latest posts by Levi Joshua Jr Verora
(see all)