The Philippines will not finish with a gold medal in the men's 3×3 basketball competition of the 31st Southeast Asian Games Vietnam 2021 after a stunning defeat in the semifinals on Saturday against Thailand.
The Thais scored a 21-17 win (8:05) against the Gilas 3×3 selection of Brandon Rosser, Marvin Hayes, Jorey Napoles, and Reymar Caduyac, denying the regional favorites a gold medal finish in a sport in has dominated for decades.
After a Napoles two brought the Philippines within 13-14, Thailand's Moses Morgan answered with a long-distance make of his own.
Then, big man Chanatip Jakrawan took over. He first hit two free throws as Gilas was in penalty situation, then scored a dunk off a turnover for a 19-15 count.
Morgan pushed the Thais to the brink at 20-15, before Napoles and Rosser made a foul shot and a basket, respectively, to pull within 20-17.
However, Rosser was whistled for a foul on Antonio Price's shot attempt, which led to the free throw to end the game at the 1:55 mark.
With the loss, Gilas will not be able to replicate the gold medal-winning feat by Moala Tautuaa, CJ Perez, Chris Newsome, and Jason Perkins from 2019.
Screengrab from F Thể Thao YouTube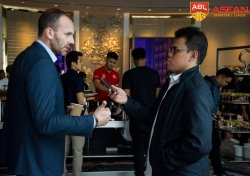 Latest posts by Levi Joshua Jr Verora
(see all)