Reigning gold medalists Thailand showcased their might, cruising past the Philippine women's national volleyball team on Saturday, 25-15, 25-13, 25-14 in the 31st Southeast Asian Games Vietnam 2021 group phase inside a packed  Đại Yên Arena in Quang Ninh.
After taking the opening set easily, the Thais opened a 16-7 lead in the second frame behind their lightning-quick attacks which gave problems to the Filipina defense all-match long.
An Alyssa Valdez spike cut the deficit down to 18-11, but the Thais opened a double-digit gap before going two sets to none.
The long-time regional powerhouse also scored from the service area with powerful serves, frustrating coach Jorge Souza De Brito's service reception and making it difficult for the latter to execute their offensive plays.
To their credit, the Filipinas played their most competitive set in the third, pulling to within 15-10.
However, their counterparts were simply too much, responding with a mini 5-1 run to maintain a considerable margin until match point.
The Philippines dropped to 1-1 after the loss — the lone game in the women's tournament for the day.
The top two nations in the five-team field will automatically advance to the gold medal game while the third and fourth-placed teams will battle for the bronze.
The Philippines is looking for its first podium finish in the event since 2005.
AVC File Photo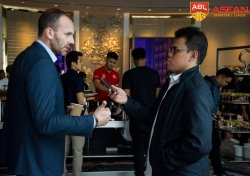 Latest posts by Levi Joshua Jr Verora
(see all)