An eager Myanmar squad stunned the Philippine U23 Azkals with two second-half goals for a 3-2 win on Tuesday, May 10 in the group phase of the 31st Southeast Asian Games men's football competition at the Việt Trì Stadium in Phú Thọ.
It was Myanmar which shockingly opened the match with a goal right from the second minute courtesy of Yangon United striker Win Naing Tun, putting the Burmese side ahead.
But Kaya F.C.'s Jovin Bedic closed the first half on a stellar note, scoring a brace with conversions on the 34th and 38th minute that pushed the Philippines on top, 2-1.
Bedic's second goal was a penalty kick which he earned after a fine run to the penalty box before getting tripped by the opposing defense.
However, Myanmar would have the last laugh, fighting back in the last 45 minutes. Yangon United's Lwin Moe Aung first notched the equalizer at the 51st minute to level things with a perfectly-timed header.
Then, just three minutes later, defender Soe Moe Kyaw would score the difference-making goal for the 2019 men's football bronze medalists to secure the crucial three points.
Soe Moe Kyaw would convert a volley just yards away from the goal after a corner kick by Myat Kaung Khant was received by Lwin Moe Aung from the left side of the box which he headed Soe Moe Kyaw's way.
The win pushed Myanmar at six points in Group A, while host squad Vietnam — the 2019 gold medal winners — are now in second spot at four points with two more matches to play.
The Azkals, on the other hand, are in third with four points, in danger of not advancing to the semifinals as they would need Indonesia to beat Myanmar to force complications in the group table.
Just two days ago, the Philippines scored an all-important draw against the powerhouse Vietnamese side to salvage a point and be in the running for Group A's top spot.
Only the top two nations in each of the two groups advance to the semifinals. The Philippines has never medaled yet in the men's competition of SEA Games football.
Photo from the Philippines Football League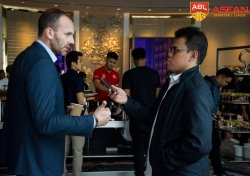 Latest posts by Levi Joshua Jr Verora
(see all)