Cebu Chooks nipped Manila Chooks in an all-Filipino clash, 17-14, to reach the 2022 Chooks-to-Go FIBA 3×3 Asia Pacific Super Quest final, Saturday night at the Ayala Malls Solenad Activity Center in Santa Rosa, Laguna.
Zach Huang led the way with six points. The University of Santo Tomas product gave his side the lead early, before teammates Mike Nzeusseu, Brandon Ramirez, and Mac Tallo did their part in the endgame to seal the deal.
Nzeusseu broke the 12-all deadlock from inside, and Ramirez quickly added to their lead with a deep two-pointer.
Tallo then sank back-to-back lay-ups off aggressive drives to the hoop to establish a 17-12 advantage with 1:20 left.
Dennis Santos and Mark Yee tried to bring Manila back into the game, but their efforts weren't enough as the veteran-laden crew bowed out.
Cameroonian Nzeusseu and Ramirez finished with four points apiece, while Tallo, the country's top-ranked 3×3 player, added three markers as Cebu Chooks remained perfect on the way to the championship battle.
Still fresh from its stint in the Dubai Expo FIBA 3×3 Super Quest, the home team has the chance to give the Philippines its first title in the FIBA 3×3 Pro Circuit in eight years, or since Manila West ruled the 2015 Manila Masters.
That will be easier said than done, since Cebu will have to go through Sansar MMC Energy in the title bout of this Level 8 FIBA 3×3 tourney that has two tickets to the Chooks-to-Go FIBA 3×3 World Tour Manila Masters on May 28-29.
Bannered by Mongolian national team members, Sansar entered the final first following its conquest of compatriots Zaisan MMC Energy, 18-15.
Enkhbaatar Onolbaatar spearheaded Sansar with six points and eight rebounds.
Contributed photo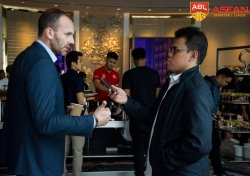 Latest posts by Levi Joshua Jr Verora
(see all)