The Thailand men's national basketball team will not have top star Tyler Lamb when it tries to defend its silver medal in the upcoming 31st Southeast Asian (SEA) Games in Hanoi, Vietnam next month.
According to a post by Vietnamese media channel Bóng rổ TV (Basketball TV), Lamb will not participate in the SEA Games, owing to his duties for Taiwan Beer in the country's T1 League, which concludes mid-May.
A staple of his national squad, the Thai-American Lamb is averaging 14.3 points, 4.6 rebounds, and 2.6 assists for the Bears.
Lamb tallied 33 points, 8 rebounds, 6 assists, and 4 steals against Gilas Pilipinas in the 2019 SEA Games men's basketball gold medal match which the Philippines dominated, 115-81.
The 30-year-old West Covina native has been stellar for the Thais back in 2019, averaging 21.5 PPG, 7.3 RPG, 5.0 APG, and 5.5 SPG in four games.
In the place of Lamb, Thailand will look to bank on wing man Moses Morgan.
Morgan is no stranger to the Southeast Asian basketball scene, with stints for the Saigon Heat and Mono Vampire clubs in the ASEAN Basketball League (ABL).
It will be a slightly tougher task for one of the basketball medal favorites minus its top scorer and all-around performer.
Photos from FIBA.basketball and ABL Basketball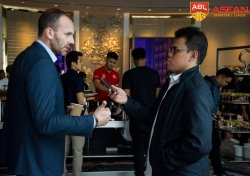 Latest posts by Levi Joshua Jr Verora
(see all)