Juan Gomez de Liano notched a triple-double off the bench in the BBM CLS Knights' conquest of the MisOr Mustangs, 119-82 on Thursday at the Liga Bali Arena in Day 3 the 2022 ASEAN Basketball League (ABL) Pre SEA Games Challenge.
The former Japan B.League Asian import tallied 18 points, 10 rebounds, and 11 assists, facilitating for the Indonesian club throughout their dominant victory.
The Knights had 32 assists compared to the Mustangs' 16, showing more cohesion and team basketball in the big win.
Jaywuan D'Angelo Hill had a game-high 26 points, making 10-of-11 field goals.
Carlos Martinez had 18 points and 8 boards, while DeAngelo Hamilton, Marcus Hammonds, and Alexander Sitorus all had 11 markers each.
The Knights opened a huge 42-14 lead after the opening quarter and held control of the game towards the final buzzer.
The only blemish in Gomez de Liano's otherwise spectacular performance was his 0-of-8 clip from three-point area.
Mark Doligon had 19 points to top-score for the Mustangs, although he shot 9-of-24 from the floor. He also had 7 rebounds, 8 assists, and 2 steals.
Mac Baracael added 15 markers on 6-of-11 shooting  while Jethro Sombero had 9 off the bench.
The Knights shot 47 percent overall from the field and made 14 triples, compared to only six for the Mustangs.
Due to a technical problem yesterday brought by heavy rains in Bali, both the Knights and Mustangs will play another game later in the afternoon.
Photo from BBM CLS Knights Instagram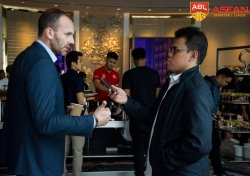 Latest posts by Levi Joshua Jr Verora
(see all)