A pair of former Lady Maroons starred for their respective teams in Day 5 action of the 2022 Premier Volleyball League (PVL) Open Conference at the Paco Arena in Manila.
For the second match in a row, Tots Carlos led Creamline as the Cool Smashers made quick work of the Balipure Purest Water Defenders for a 25-12, 25-21, 25-16 straight sets sweep.
Carlos had a match-high 14 points on 9 attacks, 2 blocks, and 3 aces as the Cool Smashers had a 39-22 disparity in spikes for the easy victory.
Alyssa Valdez contributed 7 points — all on attacks — and 10 digs. In contrast, no Balipure player scored more than 6 points.
With the win, Creamline is now on top of Pool B with a 2-0 record along with the Petro Gazz Angels, which defeated the PLDT Home Fibr Power Hitters in the opening game in four sets.
Nicole Tiamzon owned the spotlight this time for the Angels with her 13 points, all but one coming from spikes.
The squads split the first two sets before Petro Gazz took care of business towards the end for a 25-22, 19-25, 25-22, 25-18 win.
MJ Phillips was once again productive, tallying 11 points while Jonah Sabete added 10 markers. Aiza Maizo-Pontillas had 9 points and 10 digs.
Eli Soyud carried the now 0-2 Power Hitters with her 17 points on 12 spikes, 3 blocks, and 2 aces.
Photos from Premier Volleyball League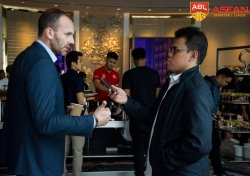 Latest posts by Levi Joshua Jr Verora
(see all)