The struggles do not seem to end for Kiefer Ravena's Shiga Lakestars.
The lowly Lakestars suffered a blowout loss to the Kyoto Hannaryz, 79-57 on Sunday at the YMIT Arena in Kusatsu as their Japan B.League losing streak extended to 10 straight games.
Just less than 24 hours earlier, the Lakestars also lost in heartbreaking fashion, 102-96 in overtime.
Ravena forced extension with a basket with 0.3 seconds left in regulation but it wasn't enough to lift his squad to what could have been the losing streak-buster.
It is the second time Shiga reached a losing skid of at least 10 games in the 2021-2022 regular season, after hitting 11 straight setbacks in December 2021.
Kyoto jumped out to a 23-7 first quarter lead and never looked back, and also limited Shiga to only 10 third quarter points.
Big man David Simon tallied a double-double of 20 points and 10 boards while Justin Harper's near double-double of 18 points and 9 rebounds also paced Hannaryz in the win.
Ravena had 7 points, a rebound, and an assist in the loss, while Novar Gadson topscored for the losing side with 19 markers.
The Lakestars dropped to 10-27 in the West District, just slightly above Kyoto's 11-29 card.
Shiga's last win was back in February 26, when Kiefer and co. beat his younger brother Thirdy and the San-En NeoPhoenix, 104-100.
Photo from Japan B.League Facebook page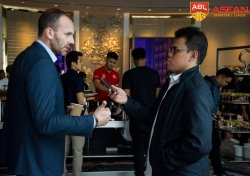 Latest posts by Levi Joshua Jr Verora
(see all)