The Perth Wildcats put on a masterful first half performance from three-point area to beat the Adelaide 36ers, 92-73 in the 2021-2022 NBL Australia regular season on Sunday, March 6 at the Adelaide Entertainment Centre.
A 9-0 start was all the Wildcats needed to establish control of the game as they cruised towards the finish line and improve to 10-6 in the team standings.
Bryce Cotton and Todd Blanchfield combined for 36 first half points, with Blanchfield making all six of his field goal attempts including four triples.
The Wildcats made 10 of their 13 three-point makes in the first two quarters, breaking the game wide open. In contrast, the 36ers shot a poor 7-of-37 from the same distance throughout the contest.
Cotton finished with a game-high 27 points along with six assists, while Blanchfield and Victor Law both added 22 apiece.
The 36ers pulled to within 66-57 in the third period, but Perth went on a 10-3 run to close the penultimate quarter with a sizable 76-60 cushion.
The home side once again tried to fight back with eight unanswered points to open the final frame, pulling within 76-68, but Perth prevented any trouble towards the end.
In the process, the Wildcats spoiled the first ever start of Kai Sotto in a 36ers uniform as he was named to the starting lineup alongside Mitch McCarron, Tad Dufelmeier, Daniel Johnson, and Sunday Dech.
Sotto went scoreless in less than eight minutes of play and only had a rebound and a shot attempt against two personal fouls.
Johnson led Adelaide, which fell to 5-11 in the standings, with his 16-point, 12-rebound double-double. Dufelmeier chipped in 15 points in the absence of Cam Bairstow.
Photo from Adelaide 36ers Facebook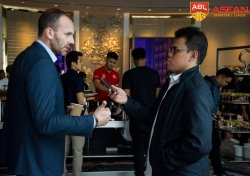 Latest posts by Levi Joshua Jr Verora
(see all)