The South East Melbourne Phoenix blew a big lead but were saved by a triple by Kyle Adnam late to clip the Adelaide 36ers, 83-76 on Friday, March 4 at the Adelaide Entertainment Centre in the continuing 2021-2022 NBL Australia regular season.
The league's second-leading squad blew an 11-point second half lead, but were bailed out by a three by Adnam — his first basket all game long — with 57 seconds left, as they broke a deadlock and took a 79-76 lead.
The Phoenix blew a 65-54 advantage as Adelaide went on a run that cut it down to 69-67 in the fourth period.
Later on, Daniel Johnson tied the count at 76 apiece with 1:18 left. However, in the ensuing play after Adnam's trey, Dusty Hannahs and Sunday Dech both missed attempts, leading to a dagger layup by Brandon Ashley in the dying seconds, 81-76.
With the win, the Phoenix improved to 11-5 overall while the 36ers dropped to 5-10, losing their last four outings.
Mitch Creek paced South East Melbourne with 29 points, seven rebounds, and five assists. Throughout the game, he engaged in a scoring battle with Johnson, who finished with a game-high 31 points.
Johnson set the tone in the first quarter, scoring 14 points including a perfect 3-of-3 from long range. He made his first five shots en route to 10-of-13 shooting overall and eight rebounds.
Meanwhile, in an anticipated duel between two towering Asian reinforcements, Kai Sotto arguably had a more productive stat line over Zhou Qi.
The Filipino sensation finished with four points, nine rebounds, two assists, and three blocks in close to 19 minutes of action.
The Chinese center, on the other hand, finished with seven points and eight rebounds.
The 36ers played the game without head coach CJ Bruton, who tested positive for COVID-19. In his lieu, Jamie Pearlman called the shots for the home side.
The game, part of NBL's Indigenous Round, featured jerseys for both sides celebrating indigenous culture and heritage.
Photo from Adelaide 36ers Facebook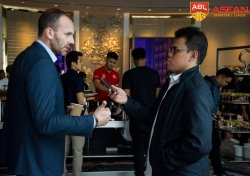 Latest posts by Levi Joshua Jr Verora
(see all)