At 19 years old and making steady progress as a pro, Kai Sotto is projected to make the 2023 FIBA Basketball World Cup roster for Gilas Pilipinas.
But even before the squad thinks about that, the focus is directed first on a busy 2022 calendar that includes the upcoming Southeast Asian Games (May), FIBA Asia Cup (July), Asian Games (September), and more.
So, should the 7-foot-3 Sotto be considered for those tournaments, Gilas fans would naturally be curious as to how he would fit under head coach Chot Reyes' system, given that  if ever, it will be his first tour of duty with the multi-titled PBA tactician as his mentor.
To which, Reyes himself responded very straightforwardly.
"He'll fit in beautifully. There is no such thing as a player who cannot fit in the system. Then there is a problem with the system if the player cannot fit into that, right?," Reyes said during a livestreamed episode of Playitright TV that featured him and Kelly Williams.
"He's so agile, he's so free-flowing, the only way you cannot fit in the system is if you refuse to fit in the system. There is no such thing as a player who cannot fit into the system if we are to develop him," Reyes added.
Sotto is averaging 6.6 PPG, 4.7 RPG, 0.8 APG, and 1.0 BPG in 10 appearances for the Adelaide 36ers in the Australian NBL.
Throughout the years, Sotto has played for many different mentors, like Michael Oliver, Joe Silva, and most recently, Tab Baldwin.
Reyes, who led Gilas to a silver in the 2013 FIBA Asia Cup (then Championship) and called the shots in the 2014 FIBA World Cup, added he thinks Sotto will be a great fit to his system.
"Kai's game, I think will blend beautifully," he said. "His versatility, ability to play inside, ability to step out to shoot the three-point shot, the ability to run the floor, to play defense, and the one thing that's very underrated with Kai is he's a great passer."
Last week, Reyes and the PBA convened to discuss a 30-man wish list of players coming from the pro league that will compose the Gilas pool for their busy 2022 schedule.
Sotto's availability for the national team will ultimately depend on how his schedule syncs with the Gilas calendar given his NBL stint and his chase to be drafted in the NBA.
FIBA.basketball photo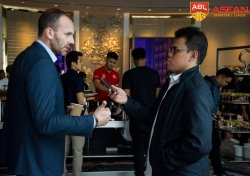 Latest posts by Levi Joshua Jr Verora
(see all)