1,767 total views, 2 views today
Back in 2016, FIBA decided to include Australia and New Zealand under FIBA Asia ahead of the 2017 to 2020 basketball cycle. This included their participation in the continental championship, the FIBA Asia Cup, as well as the FIBA Basketball World Cup Asian Qualifiers when it drastically tweaked its qualification systems for the top international competitions.
The move did not only break the years long duopoly between the two Commonwealth nations when they would just slug it out for FIBA Oceania supremacy in the past; it only brought them closer to the international basketball community as they both continued to grow the sport in their respective countries.
For New Zealand, the recently-concluded second window of the 2023 FIBA Basketball World Cup Asian Qualifiers held in the Philippines provided them with the once-in-a-blue moon chance to play inside the historic Smart-Araneta Coliseum — popularly known locally simply as the "Big Dome".
Being able to do that, along with being in the window after missing out on two years of competitive FIBA basketball due to the global pandemic situation, all the more made it significant for the world no. 27 Tall Blacks.
"I think no better place than to play here in this coliseum with all its tradition and history and also against the Gilas Filipino team," New Zealand head coach Pero Cameron said.
It's quite fitting that Cameron, a Kiwi hoops legend himself, would be part of the momentous occasion for the Tall Blacks.
The 47-year-old FIBA Hall of Famer led New Zealand to a semifinal finish during the 2002 FIBA World Cup, still the highest achievement for the country in either the World Cup or Olympics.
"It's a very big game every time you play the local team in their country. It's always big, none bigger here in the Philippines where the sport is very big. It's a pretty good turnout of the crowd tonight, which we love to see, and hopefully things are getting back to normal. It always brings a different dynamic to the game. I felt both teams were in it," Cameron said last Sunday, February 27 when they beat Gilas Pilipinas 88-63.
New Zealand went on to sweep all of their three assignments, dominating India, 95-60 the day after for a perfect 3-0 record atop the Group A standings after two first round windows.
Basketball has been steadily on the rise in the country of about five million people. In fact, all but one of their two Olympic appearances (2000, 2004) and six World Cup stints (1986, 2002, 2006, 2010, 2014, 2019) came in the 21st century, a testament to how the country is growing its basketball culture.
To share the same venue with sports luminaries who once broke sweat on the same arena before — Kobe Bryant, Kevin Durant, Chris Paul, Dominique Wilkins, the 1979 Washington Bullets, boxing's GOAT Muhammad Ali, and the Philippines' own Manny Pacquiao to name a few — and walk down the Araneta Coliseum hallway is something that is unmatched.
Shooting for a sixth straight basketball World Cup appearance, it's moments like these that inspire the Tall Blacks even more — and Cameron is glad to be present to relate the significance of the moment to his younger players.
"I think the sport is massive. The sport is growing in all levels, and the FIBA World Cup competition, it's important. We haven't had many games in the last couple of years. There's a general excitement from the group. Our staff, coaches, and the athletes coming into this window, just very, very happy we were able to make it happen," Cameron added.
It wasn't Cameron's first rodeo to the Philippines, as back in 2016, he was part of the coaching staff of the New Zealand squad that beat Gilas, 89-80 during the FIBA Olympic Qualifying Tournament that the Mall of Asia Arena in Pasay City hosted.
"Our sport is massive in our country. It's the fastest-growing participation sport in New Zealand, boys and girls, and we love it. We want to perform. The Kiwis have the desire to chase the podium and get to a high level in all sports. But especially in basketball, it's a massive movement for the youth and as foreign athletes."
It only helps that Cameron is based in Gold Coast, Australia, where he is a first-hand witness to how many Filipino basketball communities there are, each organizing their own recreational leagues in the region.
"It's massive here. Basketball. And it's good to see it. It stands high in the Filipino community and it's great. I live in the Gold Coast and there are numerous Filipino leagues and it's crazy. It's packed, the support," he shared.
It's also a welcome return for the Tall Blacks after missing two competitive years due to the pandemic.
Coincidentally, it was the Philippines that replaced New Zealand during the 2021 FIBA Olympic Qualifying Tournaments when the latter pulled out due to its health crisis.
That was what gave the opportunity for Gilas to face Serbia and the Dominican Republic in Belgrade last year.
"But for us, the Tall Blacks coming here and playing against Gilas and also India, it's massive for us. I think we played two games in the last two or so years, which has been a little frustrating for all, but as soon as we can get back to some sort of normality, we can get these games," Cameron furthered.
In the days leading up to their clash with the home side, Dion Prewster, one of the veterans on the Tall Blacks roster, already mentioned how much the squad had been looking forward to such games where they are the visitors.
"These are the kind of games you want to play. It's not often you get to play in a foreign country where basketball was so highly regarded and supported. It only adds to the atmosphere," the Melbourne United guard said.
And yes, there is something magical with the way the Tall Blacks try to always silence home crowds. In 2016 when they faced Gilas, they went on a strong start that relatively made the more than 15,000 Gilas supporters a non-factor.
In 2017, New Zealand likewise frustrated Lebanon in front of a raucous home crowd during the 2017 FIBA Asia Cup; and more recently, the Kiwis stunned Australia — their long-time regional rival — during a FIBA Asia Cup qualifiers proceedings back in February 2020 at the Aussie's home stadium in Brisbane, 108-98.
Perhaps what adds to New Zealand's motivation to do great in the international basketball scene is how when they play overseas, unsuspecting fans do not really know much about their squad. They're pretty much a team of "nobodies", unlike other powerhouses that feature household NBA names.
That alone inspires the Tall Blacks to make a name for themselves and prove they're among the world's best teams themselves using a team that's made of quality players mostly from the NBL.
"We are playing against a lot of NBA players … We don't have any. We got something to prove but when we come together, we always play well," former center Isaac Fotu, who now plays in the Japan B.League, said back in 2016.
"We take it on the court. We are from all the way down there. It's something we have dealt with since we've been in competition. It's really nothing to us. We just love going out and competing with these black jerseys. We have a lot of pride for it, and that's what drives us. Whatever anybody else has to say, we just go here and focus on what we can do," former team captain Mika Vukona said during the 2016 Olympic Qualifying Tournament.
Going from here, New Zealand still has a lot on their plate to qualify for a sixth straight World Cup, and hopefully, another Olympic stint in the near future.
Cameron's generation arguably put them on the map, and it's up to the next generation to maintain that stature. Taking away valuable experiences from Manila will only boost the Tall Blacks' campaign for the long run as they constantly try to shock the world.
"It's been great … I think the crowd we had here in our game, it was incredible. I mean, it's trying times for anyone to get out and about so the welcome we had from them, and the team competed and we managed to get lucky and get ahead of them and the crowd was sort of, we felt we were here and we felt lucky to be here. It was great," current captain Tom Vodanovich closed.
FIBA.basketball photos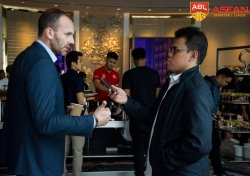 Latest posts by Nguyễn J. Văn Linh (Levi Verora)
(see all)