Gilas Pilipinas dropped its last assignment to New Zealand, 88-63 on Sunday, February 27 in the second window of the FIBA Basketball World Cup Asian Qualifiers at the Smart-Araneta Coliseum.
Thirdy Ravena led the squad with 23 points while Dwight Ramos provided ample support with his 18 points.
Interestingly, head coach Chot Reyes did not include TNT Tropang Giga wing man Gab Banal and teenage sensation Francis "LeBron" Lopez in the final 12 for the encounter, sparking curiosity among pundits and fans alike.
To which, Reyes responded by explaining the situation thoroughly. Banal, it turns out, was only a backup to Roger Pogoy should the latter not make the games on time.
"Gab was chosen precisely, he knew he was a backup to Roger. In case Pogoy couldn't go, he was our backup. And that was made every clear to him when we included him in the 15-man lineup," Reyes shared.
Pogoy was questionable weeks prior to the second window because of a nagging injury, but managed to make it to the final 15-man pool.
As for Lopez, Reyes pointed out that the high-flying 18-year-old wing man joined the squad very late, about a week left before the start of the second window.
"For LeBron, he was the last person to join. He joined us, we were already here (bubble) so he was very far from our scheme of things yet," Reyes said of the former Ateneo Blue Eaglet.
"He is still very far from understanding our offense, our defense, and that's the reason for those decisions."
But Reyes also made it clear that in the future, Lopez will have the opportunity to see minutes for Gilas for as long as he makes himself available at the start of training camps.
"But in the future, like I told Lebron, he's going to get more chances with this team but he has to be present. He has to be in the training camps, in the practices like all these other guys. And that's the reason why," the multi-titled PBA mentor closed.
FIBA.basketball photo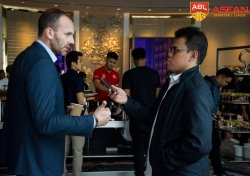 Latest posts by Levi Joshua Jr Verora
(see all)