New Zealand dominated Gilas Pilipinas, 88-63 on Sunday, February at the Smart-Araneta Coliseum during their 2023 FIBA Basketball World Cup Asian Qualifiers second window.
The Tall Blacks controlled the game from the second quarter, looking like the more cohesive and fluid team on both ends of the floor.
But one of the positive takeaways for Gilas from the loss — and the entire window as well — was the emergence of Thirdy Ravena and Dwight Ramos as the leaders for the squad.
Ravena played his heart out against New Zealand, scoring a game-high 23 points to go along with five rebounds, five assists, and five steals. Ramos, his fellow Japan B.League Asian import, added 18. The two were also the top two scorers when Gilas beat India, 88-64 on Friday.
New Zealand head coach Pero Cameron heaped praise for the two rising Philippine men's senior national team stars, talking about both their quality as players and how exciting they are to watch on the court.
"Ramos is always tough. He's a quality player. They have a lot of quality players. It must have been tough getting their group to give a lot to most teams and also backing up the game last night," Cameron shared shortly after Sunday's match.
"But also Thirdy Ravena, he's good, exciting to watch also. It's great for a team with young talent coming from the college ranks, it's really enjoyable."
The New Zealand basketball legend likewise recognized Kib Montalbo for his defensive brilliance against opponents throughout the window.
"I like the point guard, both point guards actually, the defensive one, (Taane Samuel's) teammate (Kib Montalbo). He's one of my favorite players to watch," he added.
Gilas head coach Chot Reyes had previously mentioned how the "mantle of leadership" would eventually be passed to both Ramos and Ravena given how far they have developed since turning pros both will their game skills and their maturity.
"We're slowly passing the mantle of leadership to the Gilas players of the past to these two guys. This is a long-term program. We're preparing for next year and beyond. Dwight is (23), Thirdy is 25, so that's, this is part of their maturation as leaders," Reyes said.
"That's what we are looking at for from from both of them, as leaders."
Being the Philippines' leading scorers in both meetings, aside from running the offense through them is an encouraging sign to take away from the window for the Gilas program as it continues to build up for the 2023 World Cup.
FIBA.basketball photos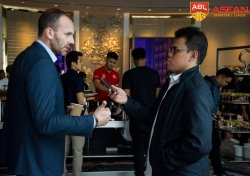 Latest posts by Levi Joshua Jr Verora
(see all)