2,997 total views, 2 views today
Second generation Filipino-Japanese basketball player Matthew Aquino made a successful debut for the Japanese national basketball team as they picked up a close 76-71 win over Chinese-Taipei in Group B of the 2023 FIBA Basketball World Cup Asian Qualifiers second window on Saturday at the Okinawa Arena in Japan.
Yudai Nishida of Seahorses Mikawa led the Akatsuki Five with his brilliant 26-point, 3-rebound, 3-assist stat line, shooting 9-of-13 from the field overall.
The game was still tied at 69 apiece in the final minutes of the fourth when Nishida delivered a huge basket, before assisting to Luke Evans for a comfortable 73-69 edge.
Chieh-Yu Han converted with 21 seconds left to bring the deficit down to two, but Evans scored a split from the foul line on the other side before Bing Sheng Lin missed a potential game-trying triple.
Finally, Nishida iced the game with two more free throws for the final tally.
It was Japan's first victory in Group B of the qualifiers after losing twice to China in the first window last year.
The win also saw the debut of Shinshu Brave Warriors big Aquino, who scored two points in 3:53 of action while committing three turnovers.
The former Bacoor Striker and Adamson Soaring Falcon was named to the 12-man selection for the contest earlier.
The son of former PBA legend and national team member Marlou Aquino will be eligible to play in FIBA-sanctioned competitions only for Japan from now on.
The campaign will not get easier however for the World Cup co-host as they will face Australia tomorrow, February 27 also in Okinawa.
FIBA.basketball photo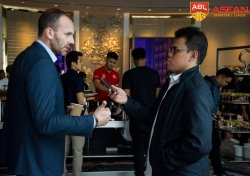 Latest posts by Nguyễn J. Văn Linh (Levi Verora)
(see all)