After the Philippine Women's National Football Team qualified for the 2023 FIFA Women's World Cup for the first time in the nation's sporting history, dreaming about making the 2024 Olympics in Paris, France is next in line.
No less than Philippine Football Federation (PFF) President Mariano "Nonong" Araneta expressed optimism an confidence in the Malditas, even though it will be long trek and under a competitive format.
"Of course, if we qualify for the World Cup, why not the Olympics. Sa Olympics, mas mahirap kasi dalawa or tatlo lang sa Asia," Araneta shared during the Philippine Sportswriters Association (PSA) forum held last Monday.
"But nevertheless, we will try our best to qualify for the Olympics in the next Olympics in Paris."
The Filipinas made the World Cup in historic fashion after a pulsating 4-3 victory over Chinese Taipei in the 2022 AFC Women's Asian Cup quarterfinals, following a 1-1 deadlock after extra time.
Goalkeeper Olivia McDaniel made key saves and converted on a penalty kick herself, setting up Sarina Bolden for the World Cup-clinching penalty kick.
Araneta, who is serving in his last term as PFF President, understands how difficult the qualification process would be for the 2024 Olympic football tournament, given that the AFC allocates only a few slots for the continent.
"Dito sa Asia, slots natin ay tatlo lang. We will be competing with Australia, Japan, China, South Korea, probably North Korea, which are ranked higher,' he mentioned.
Ironically, Chinese Taipei was the team that ended the Philippines' hopes for making the 2020 Tokyo Olympics edition with a 4-2 win in the second round.
But after the significant accomplishment by the nationals, Araneta expressed confidence that "anything is possible."
"Yung nakita naman natin sa team natin is, anything is possible now. They're proven anything is possible. So we're confident that come the qualification for the Olympics, I think we will give them a good fight," he said.
In fact, the Philippines' upcoming semifinal encounter against South Korea in the AFC Women's Asian Cup will serve as a gauge as to how far the Filipinas have come, given that their East Asian rivals are of Olympic and World Cup quality.
The national sports association head concluded that proper preparation and training will be key should the Malditas, coached by Alen Stajcic, aim for another glorious milestone in Filipino football.
"We're the lowest-ranked team to qualify for the World Cup now. But that doesn't mean kulang tayo sa laro or kulang ang talent ang mga players. We just have to prepare the team properly. I think with the proper preparation, we can compete with the best," Araneta expressed.
"That's all we can say right now, that we will do everything to prepare the team. 'Yun lang talaga. Prepare, and the hard work will pay off."
And it's hard to argue with the results, after the Philippines made the semifinals of the prestigious continental tournament.
Photo from The Philippine Football Federation Facebook page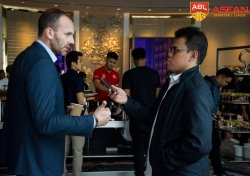 Latest posts by Levi Joshua Jr Verora
(see all)